With "Captain America", the custom Harley Davidson from Easy Rider, up for auction on October 18th, the renaissance of the iconic chopper is well and truly here. Gestalten.tv meets with vintage motorcycle expert Paul d'Orléans aka the Vintagent, the man behind The Chopper: The Real Story released by Gestalten this week, to provide foretaste of what to expect from this bound showcase of the quintessentially American invention. Providing insight into the origins of the chopper and the start of the custom movement, he gives a shout-out to legendary builders and dispels a few myths surrounding this icon of counterculture on the way. Lean back and take a short ride into the American Dream.
Der Chopper: Die wahre Geschichte ist auch auf deutsch erhältlich.
Video Credits
A production by Gestalten www.gestalten.com | Ole Wagner: Script/Music | Astrid Gleichmann: Editor | Camera: Jan Schöttler | Location: Biarritz | Copyright 2014 Die Gestalten Verlag GmbH und Co. KG
The motorcycle is back! <i>The Ride</i> is about custom motorcycles as motorcycles are meant to be and the people who build and drive them.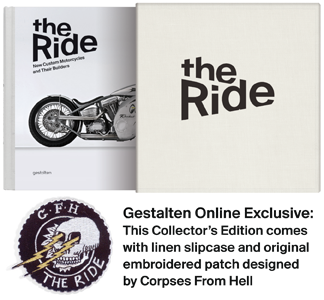 €49.90
$65.00
£50.00
The chopper is quintessentially American and, since <em>Easy Rider</em>, has embodied the American dream. This book tells the true story of the most rebellious of all motorcycles.