Andrea & Paolo Ventura—Dreams
Frankfurt's DIE GALERIE presents the first joint exhibition of the Italian twin brothers Andrea and Paolo Ventura. Although they're devoted to different media, Andrea as a painter and illustrator while Paolo as a photographer, they share a common fascination for certain topics.
The brothers were raised in the idyllic Tuscan countryside, deeply influenced by their grandmother's narration of the second world war and the discoveries of military relicts near their home. Another remaining trait from their childhood is the preoccupation with costumes and their function. According to Paolo Ventura, "costumes alone are able to define a person in appurtenance, rank, time, geography or ethnicity". In Frankfurt, Andrea's expressionistic paintings and Paolo's ambiguous and sometimes mysterious photographs tell the story of their mutuality but also their own paths.
Andrea Ventura moved to New York in 1991 together with his brother, and now splits his time between Brooklyn and Berlin. He has become famous through his illustrations for publications such as the New York Times, the New Yorker, Newsweek, Time, and Businessweek. Ventura's perspective is existentialistic, and his style expressionistic. Whether he has painted a sparse interior, a monument, an exterior view, a cemetery, mass transit, a sober still life, or an empty bathroom, he brings the scene to life with a muted light. He captures his subjects in a melancholy aura that makes the irrelevant significant. His first monograph Carnevale—Andrea Ventura, attesting this fascination with daily life, has been published by Gestalten.
Paolo Ventura, still based in New York, participated in numerous solo and group exhibitions worldwide. Collections such as the Boston Museum of Fine Arts, the Library of Congress in Washington, and the Maison Européenne de la Photographie in Paris carry his work. His pictures are a mergence of memories, fantasies and visions that seem to capture the lingering moment of a longer narrative.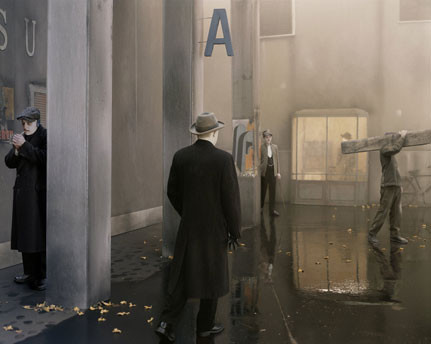 Dream opens on April 3 at DIE GALERIE Frankfurt and will be on show throughout May.

Images:
Portrait in Blue by Andrea Ventura, copyright DIE GALERIE Frankfurt
Behind the walls #2 by Paolo Ventura, copyright Paolo Ventura