Ayatollah
IL magazine features spread made with "Infographic Thinking 2" workshop participants
The current issue of IL – Intelligence in Lifestyle features an infographic spread developed collaboratively between IL art director Francesco Franchi and the participants of Franchi's "Infographic Thinking 2" workshop in December at Gestalten Space.

The feature "Ayatollah" details is about Islamic studies and the ranking of its clerigy. It was the primary hands-on example at Franchi's "Infographic Thinking 2" workshop at Gestalten Space on December 3-4, 2012. The spread is featured inside a new section at the front of the magazine called "Tabloid."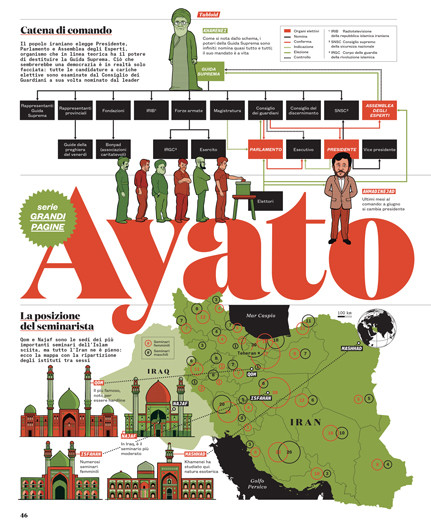 Over the two-day workshop, Franchi gave insight into how graphic editors filter information, establish relationships, discern patterns, and develop inspiring and stimulating solutions to contextualize information that simultaneously inspire, inform, entertain and even encourage critical thought.
Francesco Franchi is an editorial and information designer, and since 2008, the art director for IL – Intelligence in Lifestyle, the monthly news magazine of Il Sole 24 ORE, one of Italy's top financial newspapers. Embracing new languages in journalism, Franchi is a true master of combining representation and interpretation, creating a visual form that is as graphic as it is narrative, as entertaining as it is informative.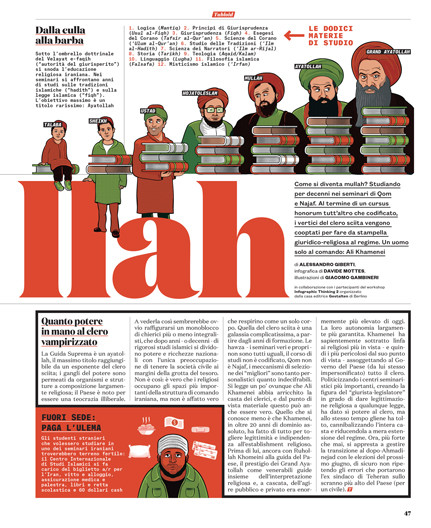 His work is profiled in Visual Storytelling, Data Flow 2, and Turning Pages. Gestalten is pleased to publish Franchi's first book later this year. In it, he contemplates the design of media and information graphics and envisions the future of news reporting by publishing companies.