BIG
Unveils Phoenix Observation Tower
The Bjarke Ingels Group (BIG) is commissioned by Novawest to design a 420 ft tall mixed-use observation tower to serve as a symbol for the city of Phoenix, Arizona. The 70,000 sf Observation Tower shall add a significant structure to the Phoenix skyline from which to enjoy the city's spectacular views of the surrounding mountain ranges and dramatic sunsets.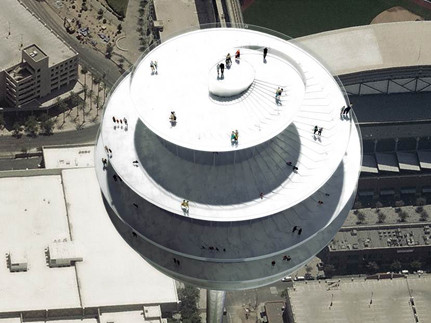 The future observation tower is conceived as a tall core of reinforced concrete with an open-air spiral sphere at its top, resembling a metaphorical pin firmly marking a location on a map. The spiraling sphere contains flexible exhibition, retail and recreational spaces which are accessed via three glass elevators that connect the base with the summit and offer panoramic views of the city and the tower's programs as visitors ascend or descend. Once the visitors reach the middle of the sphere, they can choose to either conclude their journey by taking the elevator back to the ground, or continue to the restaurant levels at the lower hemisphere. The motion resembles a journey through the center of a planet, and a travel from the north to the south pole.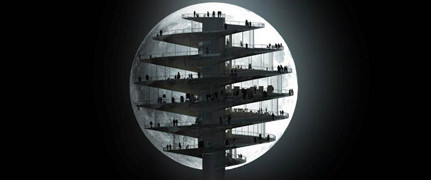 The base of the tower will serve as a public plaza offering shade, water features and a small amount of retail together with a subterranean queuing area. The tower will serve as a working model of sustainable energy practices, incorporating a blend of solar and other technologies. More stunning projects by BIG can be found in Brand Spaces, Learn for Life, Utopia Forever, and Strike a Pose.