Book Release: Berlin Wonderland
Wild Years Revisited, 1990–1996
When the Berlin Wall fell in 1989, artists, punks, anarchists, squatters, visionaries, and oddballs discovered the no-man's-land behind it—a practically lawless zone in the heart of the city. The compelling photography in Berlin Wonderland brings this almost forgotten era back to life and shows just how much the city has changed since then.
In the free spaces among the crumbling façades of old buildings unbridled creativity was unleashed and a variety of clubs, bars, techno parties, galleries, uprisings, and exhibitions sprung up. These new spaces became a magnet for young people from around the world, who flocked to the burgeoning scene. As these wild years may seem long past, their effect is still palpable and has made Berlin into what it is today.

"We were in a realm of possibilities where dreams could come true. Each day was a fresh adventure. We were possessed by the collective urge to create something new. We encouraged, inspired and challenged each other. For a brief and precious moment, different rules applied," stated Jochen Sandig.

Twenty five years after the fall of the Berlin Wall, it is time to tell the visual story of an extraordinary time in the Mitte district's history that only few experienced. The striking photography in Berlin Wonderland is supplemented by interviews and quotes from those who shaped its subculture.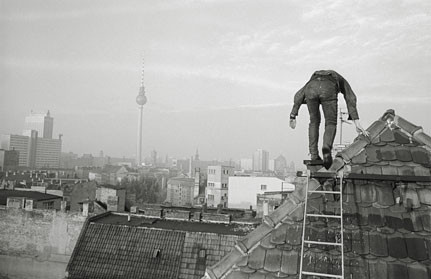 Photography: Philipp von Recklinghausen/bobsairport
Als 1989 die Mauer fällt, entdecken Künstler, Punks, Anarchos, Hausbesetzer, Visionäre und Spinner das Niemandsland, die nun nahezu gesetzlose Zone inmitten Berlins. Berlin Wonderland lässt diese schon fast vergessene Zeit in einmaligen Bildern auferstehen und verdeutlicht, wie sehr sich die Stadt gewandelt hat.

Damals entstanden Clubs, Bars, Technopartys, Galerien, Aufstände und Ausstellungen. All dies wurde zum Magnet für junge Leute aus der ganzen Welt. Zwischen bröckelnden Altbaufassaden wurden Freiräume gelebt, entwickelte sich ungezügelte Kreativität und ein neues Lebensgefühl. So fern diese wilden Jahre wirken, so sehr spürt man doch, wie sie Berlin zu dem gemacht haben, was es heute ist.

"Wir waren in einem Möglichkeitsland, in dem Träume wahr werden konnten. Jeder Tag war ein neues Abenteuer. Wir waren beseelt davon, gemeinsam Neues zu schaffen. Wir haben uns angeregt, inspiriert und herausgefordert. Für einen kurzen, kostbaren Moment galten andere Regeln." (Jochen Sandig)

25 Jahre nach dem Mauerfall ist es an der Zeit, das Berliner Wunderland wieder ins Gedächtnis zu rufen und seine Geschichte in Bildern zu erzählen, die kaum jemand gesehen hat. In Interviews und Zitaten kommen Protagonisten jener Zeit zu Wort und lassen die Subkultur der Berliner Mitte wieder lebendig werden.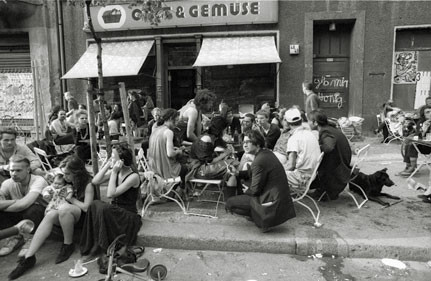 Photography: Ben de Biel/bobsairport

About the editors:
Musician and photographer Chris Keller has lived in Berlin since 1990. He is a founding member of the Elektronauten and has lived and worked in spaces including Tacheles, IM Eimer, Synlabor, and Schokoladen. Today, he works on the music projects Resident Kafka and Elekronauten and puts on the Oddlab series held at the Club der polnischen Versager. Anke Fesel has also lived in Berlin since 1990. She managed a variety of events—including Laut + Luise, a concert series for new music—at spaces including Tacheles, IM Eimer, and Schokoladen. She started her career as a designer for the city newspaper scheinschlag. Today, she is the director of the graphic design studio capa. In 2007, Keller and Fesel founded the photo agency bobsairport. They now represent more than 80 photographers, most of whom are based in Berlin.
Über die Herausgeber:
Chris Keller lebt seit 1990 als Musiker und Fotograf in Berlin. Er ist Gründungsmitglied der Elektronauten und hat in diversen Projekten wie Tacheles, IM Eimer, Synlabor und Schokoladen gelebt und gearbeitet. Heute ist er mit den Musikprojekten Resident Kafka und Elektronauten aktiv und veranstaltet die Reihe Oddlab im Club der polnischen Versager. Anke Fesel lebt ebenfalls seit 1990 in Berlin. Sie war als Veranstalterin – unter anderem der Konzertreihe für Neue Musik Laut + Luise – in diversen Projekten wie Tacheles, IM Eimer und Schokoladen tätig. Sie begann ihre Arbeit als Gestalterin bei der Stadtzeitung scheinschlag und betreibt heute das Grafikbüro capa. Gemeinsam gründeten die beiden 2007 die Fotoagentur bobsairport und vertreten mehr als 80 Fotografen, von denen die meisten aus Berlin kommen.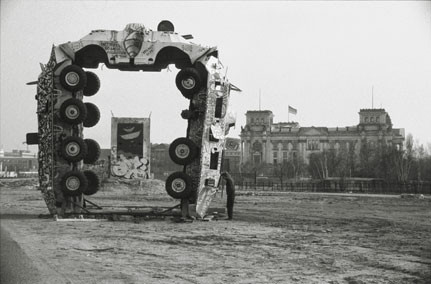 Photography: Hilmar Schmundt/bobsairport
Book release events:

May 16, 19:00, Book release party at Kosmetiksalon Babette
Performance by Marva Maschin Klan, DJ sets

May 22, 20:30, Book presentation at Ocelot
Audio-visual installation by General Elektrick, DJ set by Backrider

June 5–7, Exhibition at Urban Spree
Opening: June 5, 20:00
Finissage: June 7, 20:00