Craft Beer Portraits n°2: Heidenpeters
In our second excerpt from Barley & Hops: The Craft Beer Book, we meet an artist-turned-brewer from Berlin.
Making craft beer is similar to producing a collage—that's how Johannes Heidenpeter, artist and brewer, views it. If you're in Berlin, you will also be able to taste Heidenpeters' Pale Ale and Thirsty Lady at our Barley & Hops book launch at Gestalten Pavilion on September 19. 
On Thursday evening, Market Hall Nine in Berlin's Eisenbahnstraße: a babble of international voices, Taiwanese Gua Boa, oysters, Korean Bibimbap and a good mood. Street Food Thursday is the name of the weekly event attracting visitors to Kreuzberg from across the city. The long queue in one corner of the hall ends at the man with the flat cap behind the three beer taps. Here flows house beer.
Johannes Heidenpeter serves his ales, smiles shyly, and still can't quite believe the crowds. Two years ago the graduate from the Berlin University of the Arts was still a freelance artist. He still is, however he doesn't have any time for art at the moment. Since becoming gripped with the beer fever, he has invested all his time in the building and expansion of his brewing facility in the cellar of the market hall. The material he collected for collages have been built into the bar and the only time he picks up a brush at the moment is when he designs new labels. However, brewing provides him with artistic satisfaction: creating something new and exciting from a wealth of good ingredients is akin to making a collage.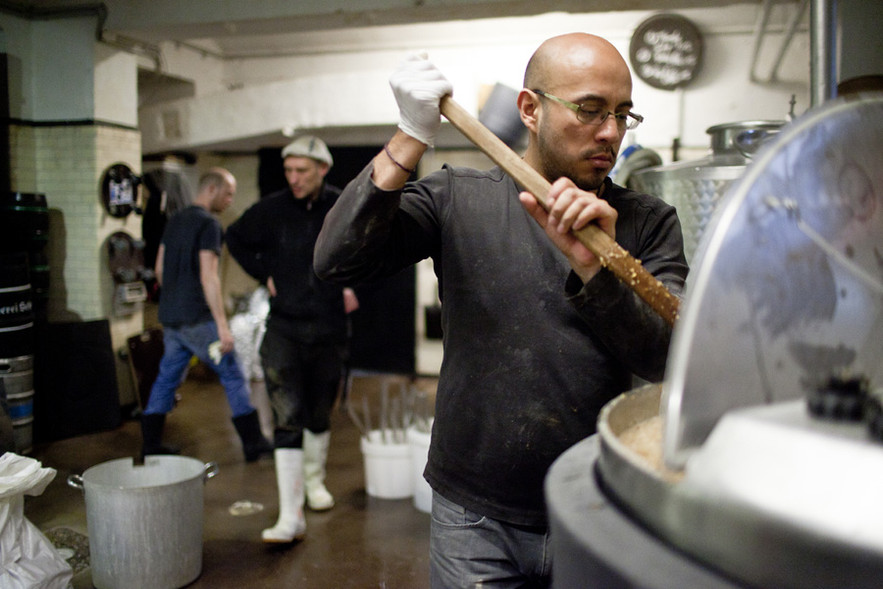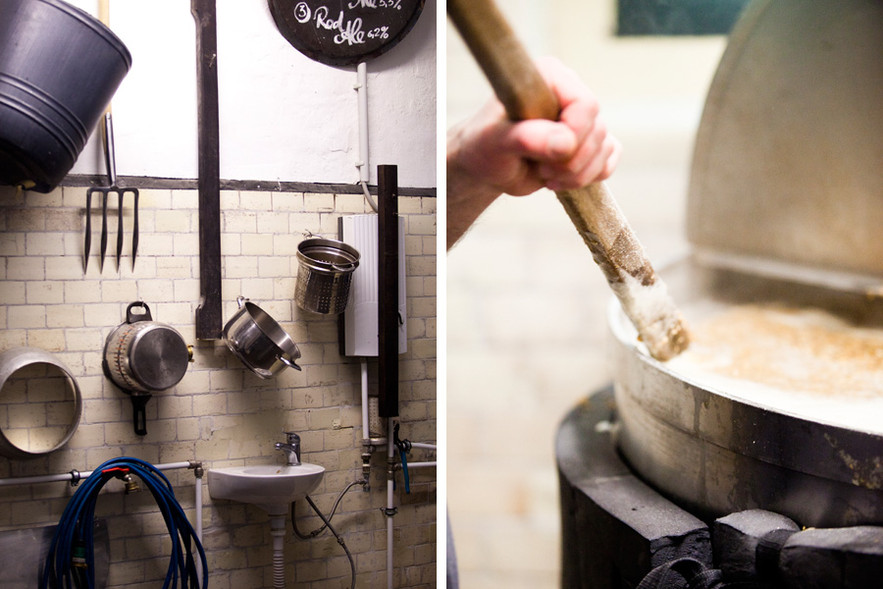 And when the rush subsides a little on a normal market day, he has time for a snack with the other vendors in the market hall. Conversation is a good source of new ideas, and at the moment new ideas for Johannes Heidenpeter means just one thing: new beers. His smoked porter, for example, which he brewed using malt dried by his neighbors from Big Stuff Smoked BBQ or his summery-refreshing Saisonnière, a cross between Belgian saison and an American style pale ale which was brewed using cacao bean shells from Bonvodou, the local master of hand crafted chocolate.
New beers are continually being put on tap. Having just opened for under two years, the autodidact has created around 50 different ales. The range changes every few weeks, generating a sense of anticipation amongst regular visitors as to what they can expect next. However, two of the biggest crowd pleasers are produced more regularly: the elegant-fruity "Thirsty Lady" with gentle elderflower notes and the pale ale with its tropical and citrus fruit accents.
At some point Johannes Heidenpeter intends to bring art and beer even closer together. He is certainly not short of ideas.