Elisa Strozyk for Gestalten
Exclusive Collection Available at Gestalten Stores
In her Wooden Textiles series, Elisa Strozyk explores soft tactile features of the otherwise hard material of wood, challenging and blurring what can be expected from a wooden surface. Interweaving geometric wood pailettes with textile properties, she creates a new flexible surface of half wood-half textile, much like sequence, with the ability to function in different three-dimensional shapes and behaviors depending on the geometry and size of the tiles.

"Giving importance to surfaces that are desirable to touch can reconnect us with the material world and enhance the emotional value of an object," says the designer.

Born in 1982, Elisa Strozyk studied Textile and Surface Design at KHB Berlin and Future Textile Design at Central Saint Martins in London. Her unique wooden textiles and furniture objects have brought her international recognition and numerous exhibition invitations. Awarded the German Design Prize in the category "Newcomer", she's regarded as one of Germany's great hopes in design.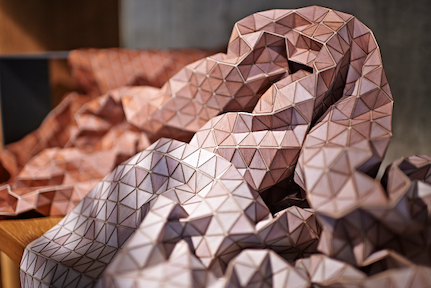 Together with Gestalten, Strozyk has produced an exclusive collection of Wooden Plaids in two different color variations and a completely new collection of Table Runners in three different sizes. These multi-functional home accessories can become a sculptural element for the home, a rug, a bedcover, and with the new Table Runner series—table decór.

Wooden Plaids:
Variations: Fading to Black (black/maple), Fading to White (nude/red) 
Size: 120 x 180cm
Table Runners:
Variation: Fading to Black (black/walnuts)
Available in three sizes: 35 x 130cm, 50 x 155cm, and 50 x 180cm
Prices range from €400 to €1800

The Wooden Plaids and Table Runner pieces are now exclusively available at our Berlin stores, Gestalten Pavilion and Gestalten Space.