"I always wanted to create surfaces that are desirable to touch."
An interview with designer Elisa Strozyk about her unique creation: wooden textiles.
As part of our series featuring the crafty personalities from the new release The Craft and the Makers: Tradition with Attitude, Gestalten.tv presents a video with Elisa Strozyk providing some insight to her Wooden Textiles concept. Filmed in her Kreuzberg studio, the video shows just how flexible, almost fluid, the wood and textile hybrid pieces really are, and takes a peek at her deconstruction process, in which geometric pieces of wood are arranged on a fabric base. In the interview below Elisa Strozyk speaks about her fascination with wood, the surprise elements of the product and her exclusive collection with Gestalten.
______________________________
There is something fascinating about making a material like wood malleable, turning it into something that you can actually wrap yourself in. What can you tell us about your relationship with wood? Has it always been your material of choice to work with?
No, originally I studied textile design and worked with techniques like weaving or screen-printing for a very long time. Then I started to combine hard and soft materials to develop surfaces that are more three-dimensional and tactile. During my master-course in London I started to work with wood. I think it was the desire to work with a completely new material very far away from textiles. For me it was a challenge to experiment with wood in applying my knowledge about textile techniques.
What is your favorite thing about wood?
Wood is an amazing material; I love the touch and the smell of wood. It implements warmth and coziness. Also wood is a material that is able to grow old beautifully — not many materials are.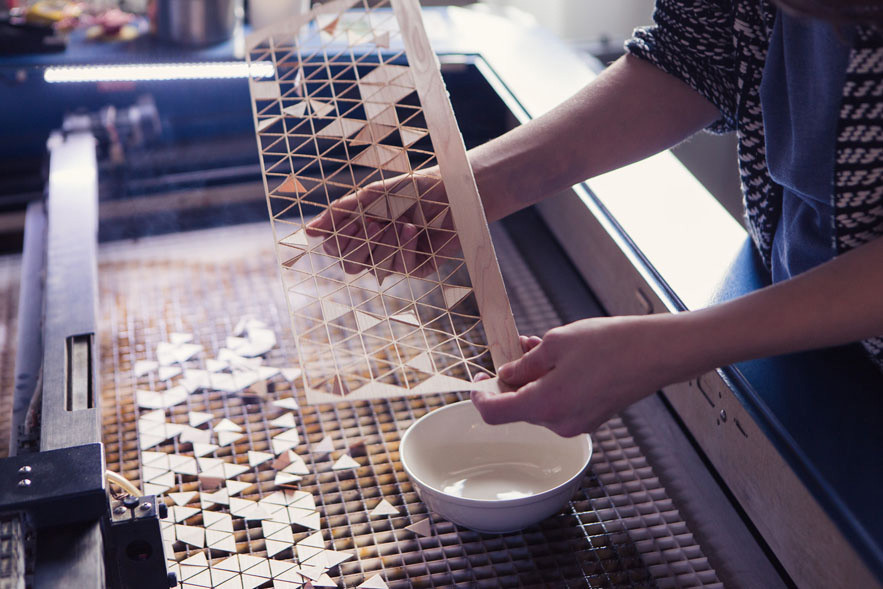 How does your design for a piece start and how do you develop it?
I prefer to experiment a lot with materials. Normally I am not working with the computer or drawings to develop a new design. I start playing with different materials and techniques and I also like to recover traditional techniques but apply them in a new way to surprise people.
Color contrast and geometric patterns are important elements in your design. How do you decide on a color and pattern scheme?
To develop the color schemes I start to combine different wood types with colored wood. I am staining most of the colors myself and then I arrange them in different groups. At the moment I like to combine one vibrant color with more settled, natural tones. When I work with patterns there are two options. Either I develop them spontaneous during the process of arranging the wooden pieces or I plan them on the computer. I like to mix traditional marqueterie patterns with weaving patterns.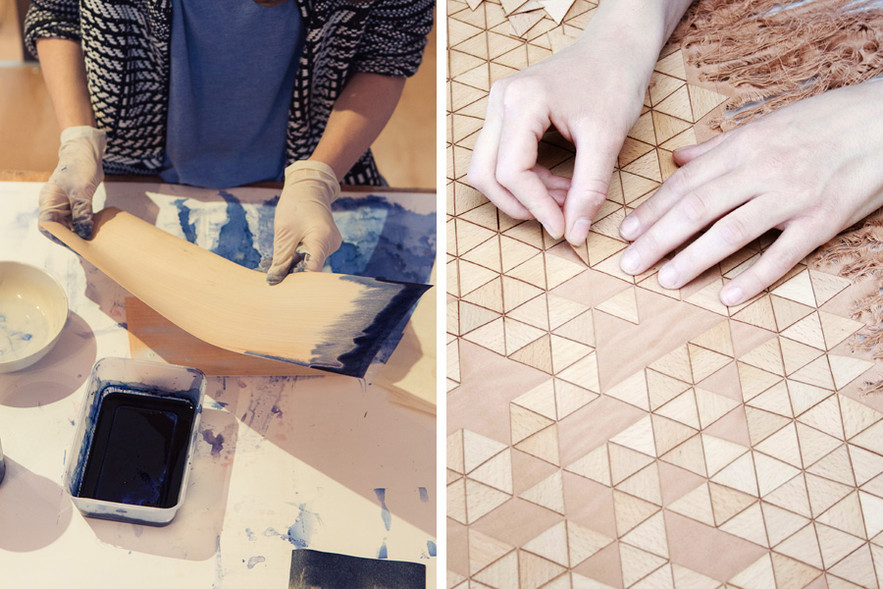 Your Wooden Textiles blur the lines between carpet and wooden flooring as well as between two and three dimensional structures. They also introduce a playful, interactive aspect through the moldable quality of the pieces. Was it important to you to have a product which is not too precious, something to play with?
It was always important for me to create surfaces that are desirable to touch, but when I developed the wooden textile I didn't expect that it would have this very playful aspect. But I really like the effect that my material is very interactive and that people start playing with it. It is interesting to watch people when they touch the wooden textile for the first time. Most people are very surprised and didn't expect that the material is so flexible. 
Considering the many things a Wooden Textiles piece could be categorized as — carpet, sculpture, wall-hanging, maybe even a toy — do you have a sense yet what type of person it appeals to most?
In general I think people who, like me, enjoy tactile experiences. But yes, everybody wants to apply the material in a different way. Fashion designers immediately want to wear the wooden textile on the body and a person with a background in fine art sees it as a sculpture. Besides that I met many architects who especially like the three-dimensional aspect of the material.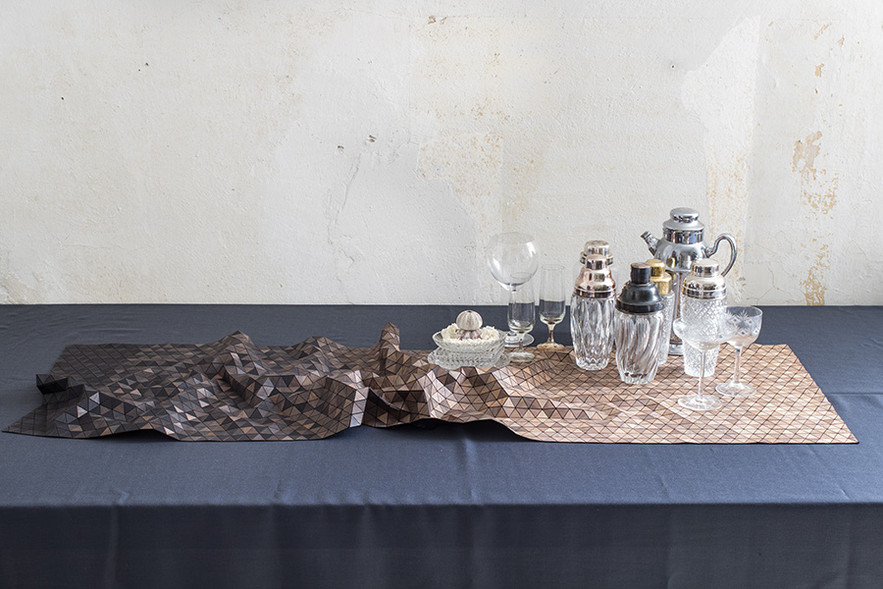 Are there any plans for Wooden Textiles fashion? 
Yes it's interesting to see the wooden textiles on a moving body. I already collaborated with fashion designers. I worked with the Brazilian label Maria Bonita, the French designer Lea Peckre, Berlin-based designer Nadine Evelyn Welches, and Sruli Recht from Iceland. All of the collaborations had different outcomes, like for example dresses, jackets, or bags, but most of them where show pieces for the runway. I am still interested in realizing bags or accessories, but at the moment my focus is more on interior objects.
What are the occupational hazards of working with what is after all a very tough, heavy and hardwearing material? 
I do have some marks from burning myself with my heat-press. Some parts of the production also require physical strength, like sanding the wood. But overall I like to work with my hands.
How did the exclusive edition of Wooden Textiles for the Gestalten Shop develop? What makes it different from existing pieces? 
Gestalten published my work in some of their books and we met from time to time on different exhibitions and fairs. Now they approached me to develop the exclusive collection. Gestalten came up with the idea to make table runners, which is a completely new product. Together we decided on the colors, patterns and wood types.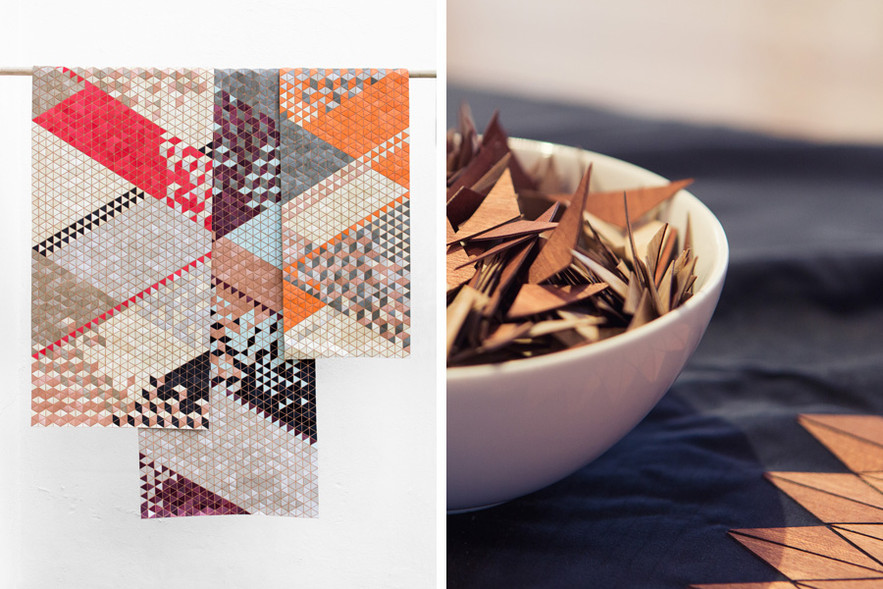 What can you tell us about other upcoming projects? 
I started to develop ceramic tables at the beginning of this year. Ceramic is also one of the materials I always wanted to work with. I like the extremely glossy and sleek surfaces of glazed ceramic and also the different optical effects like the crackle effect and raku technique. I produce side-tables with individual patterns, which are made in a technique that is similar to a marbling where you mix liquid colors into each other.
______________________________
 The Gestalten x Elisa Strozyk made-to-order table runners are available at the Gestalten Pavilion and online shop: The Broken Carrot Table Runner, 35x130cm, €450; The Broken Tomato Table Runner, 50x155cm,€750; The Broken Aubergine Table Runner, 50x180cm, €850.