"I'm far from esoteric, but I love the narrative behind these ingredients."
Frank Leder talks candidly about the stories behind his clothing collections and natural body care range.
Featured in the recent Gestalten publication The Craft and the Makers: Tradition with Attitude, the singular vision and aesthetic of Frank Leder leaves a lasting impression. Curious about the inspiration behind his novel designs and personal grooming products named Tradition, we caught up with the sincere designer who filled us in on his creative process, love of folklore, and unusual range of botanicals currently available at the Gestalten Pavilion in Berlin.
______________________________
What can you tell us about your fascination with traditional tailoring and handcraft: Does this come from a place of nostalgia or is it more of a visionary stance? 
I wouldn't call myself nostalgic. I'm inspired by traditional methods, old stories or old ingredients, but I am very much about making something new, about looking to the future and creating something avant-garde. I do have an attachment to vintage buttons; modern ones try to imitate the old, but always fall short. I love finding buttons from the twenties or thirties that have been in unopened bags for decades and then giving them a new lease of life through my garments. 
Your clothing collection and other creative endeavors convey a very consistent vision and aesthetic: Do you design and create products with a specific person in mind?
My starting point for the clothing collection is actually always the fabric. A couple of weeks into the creative process, I see what kind of story is emerging. Of course, I have notebooks filled with many themes and ideas, but they might sit there for several years until they actually make into a collection. Subconsciously, I'm probably also influenced by my friends and creative people around me, but I design for anyone who takes an interest in my stories.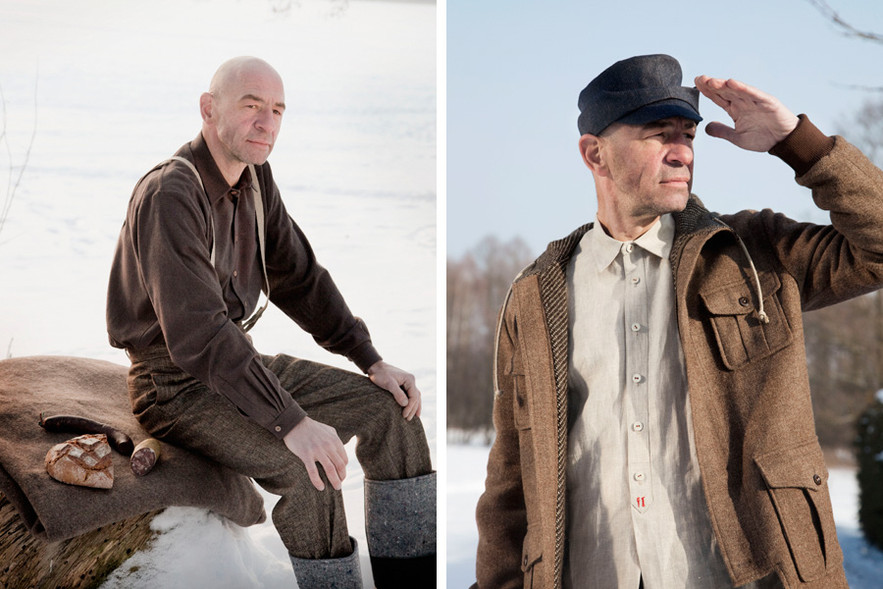 Tell us about the inspiration for your range of body care products, Tradition?
My work is very inspired by personal experiences from my childhood: mushroom hunting in the forest, the smell of elderflower from my grandmother, but also old stories and folklore. Masterwort, which is used in our Honey and Masterwort handlotion, for example, should only be picked during full moon and the root is said to ward off evil spirits. I'm far from being esoteric, but I love the narrative and the stories behind these ingredients.
How did you develop these grooming products?
The idea for a range existed for a long time. I then started working with Ingo Metzler, who is based at the Bregenz Forest in Austria. He brings incredible expertise with him, has a really high-end laboratory on-site, and is a man who doesn't like to rush. The development of a product goes something like this: I visit him to explain my ideas and specifically the ingredients I'm interested in using. After a couple of weeks, some samples arrive here in Berlin, and I usually head back down to his place for further talks and development. It's a bit like a ping-pong game. For me natural and organic ingredients are a matter of course—I don't make a big thing about it on the packaging—but it can be a challenge to rely on natural ingredients for things like smell and texture. I have very specific ideas. Ingo always laughs that I'm his most difficult customer.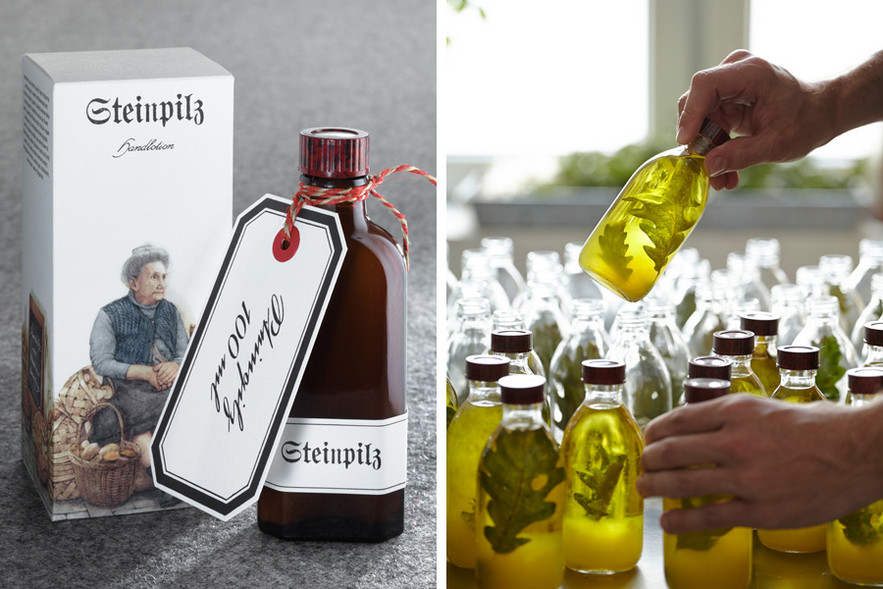 Why the unusual ingredients, like mushroom, sausage or wheatbeer? Is it the novelty factor?
Oh no, these products really come from my heart! I would never think to launch something just to be different, nor simply because it makes commercial sense. The most important thing is that the products work. They also have to make sense to me. Actually, the fact that they are perhaps initially seen as a little difficult is something I like. The challenge makes me want to create them even more.
Your garments and products are undeniably rooted in German culture and history, something which in fashion circles has not been so closely associated with style or elegance for some time. What do you think is the secret of their appeal?
My collections have actually not been so readily available in Germany up until now, but do very well in the US, England and Asia, in particular Japan and Hong Kong. In the US especially, customers are really impressed with the selection and quality of fabrics. I like to use a variety of fabrics in my collections and choose to work with German factories. Not only does speaking the same language and being in close vicinity make it easier to control the production-process, something that is incredibly important for my quality-driven collections, but I also like to support the creation and preservation of local workplaces.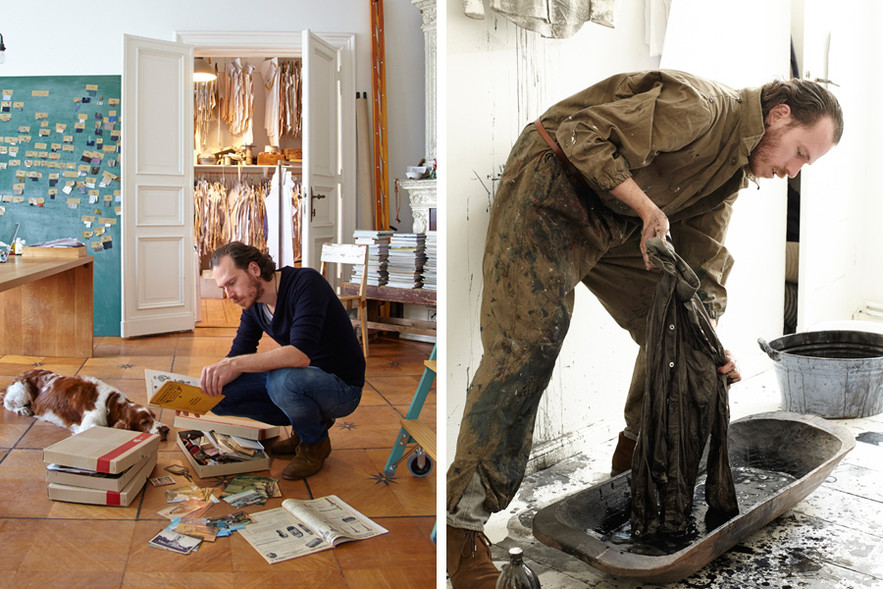 Are there any plans for a shop in Germany?
Actually, as the local demand has grown, I plan to open a shop here in Berlin at the end of October. Our studio space has the look and feel of a natural history museum and though it would be possible to create a similar thing as a shop, I thought it would be more interesting to invite people to the core of where it is all happening. We will dedicate two rooms, about 80 square meters, right here inside our heart! There will only be a small sign downstairs that reads "Zweite Stock" ("Second Floor"), which means visitors will have to make a certain commitment—which I like—ringing the doorbell downstairs and tramping up here to the second floor, where they can shop from our last collections and collaborations. It's a little like I'm letting my trousers down, but I look forward to having more close contact with the ordinary person after having worked quietly with my head down for so many years.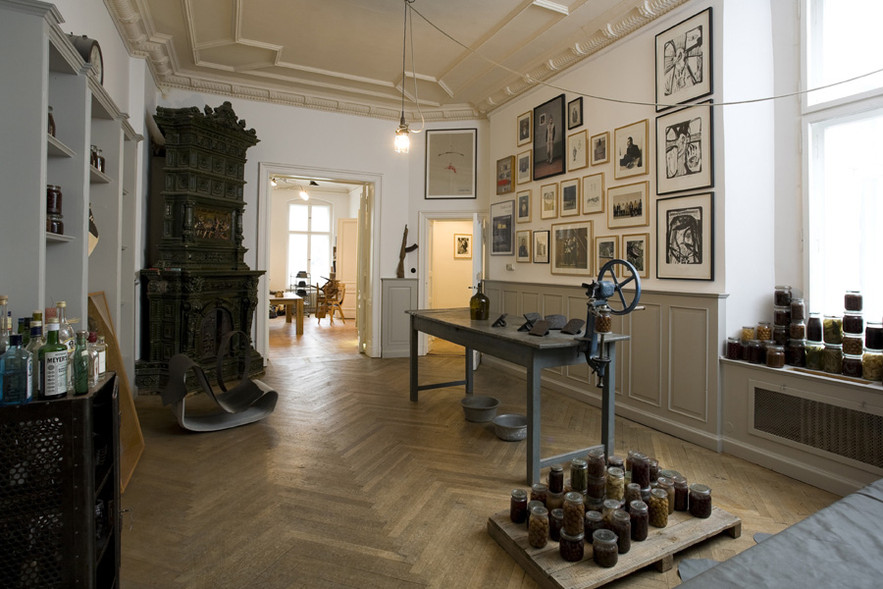 Tradition by Frank Leder is available at the Gestalten Space and the Gestalten Pavilion Store.
Meet more craftsmen in our series of interviews with the personalities from The Craft and the Makers book: Tomas Botner and Elisa Strozyk.