Gestalten's Berlin Food: Pumpkin Stew
Every couple of weeks, we'll give you a glimpse of the Gestalten Pavilion's new menu, for you to try at home.
At Gestalten, we've been talking about people who do great things with food for a long time. Now we've taken to cooking it ourselves. In a new series, we'll be showing you some dishes inspired by the fall and winter menu of the Gestalten Pavilion in Berlin, where we reinterpret the Berlin cuisine of yore. 
Photography by Our Food Stories
______________________________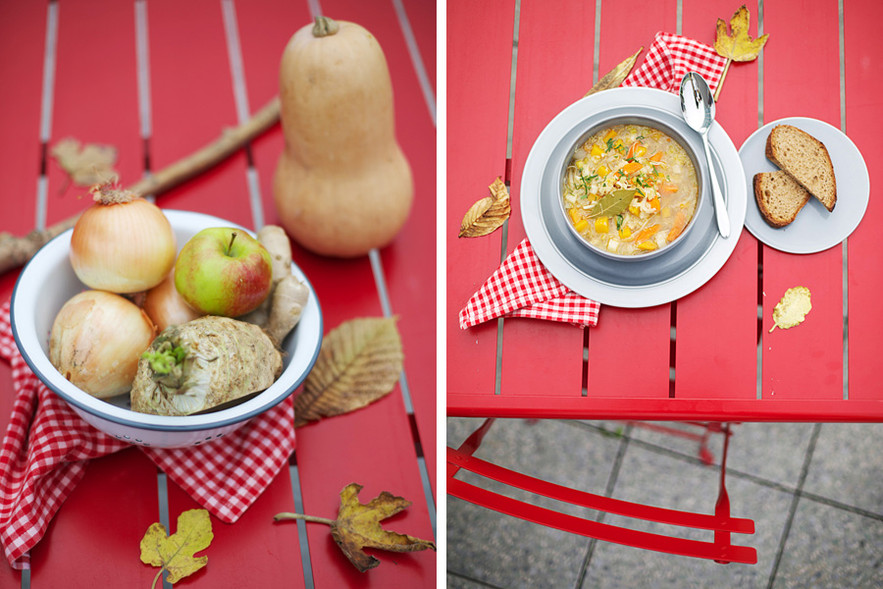 Traditional Berlin cuisine is more about filling you up than about refined flavors, which means it's simple and quick to prepare, but also easily improved. A Berlin stew would usually be made of peas, lentils or potatoes, but replace the pulses with quinoa and leave out the once-ubiquitous sausage, and you've catapulted the stew into the 21st century. Our slightly updated version of a traditional Berlin winter stew will take you about forty minutes to prepare and is perfect for small groups and cold evenings. 
To make this at home, you'll need:
one pumpkin

two or three onions

carrots

potatoes

leeks 

quinoa 

vegetable stock 

bay leaves

... and any other root vegetables you feel like adding, like celeriac or ginger, and even apples.  
Cut all the vegetables into small dice. In a pot, sautée the onions until translucent, then add the rest of the vegetables. Fill up with the vegetable stock, add a bay leaf or two, salt, and pepper, and boil the whole mix on low heat for about 20 minutes—until the vegetables are nearly done but not quite, because you'll want to have something to chew in the end. Add the quinoa and cook for another 10 minutes, then serve yourself a bowl and let the warmth spread through your body.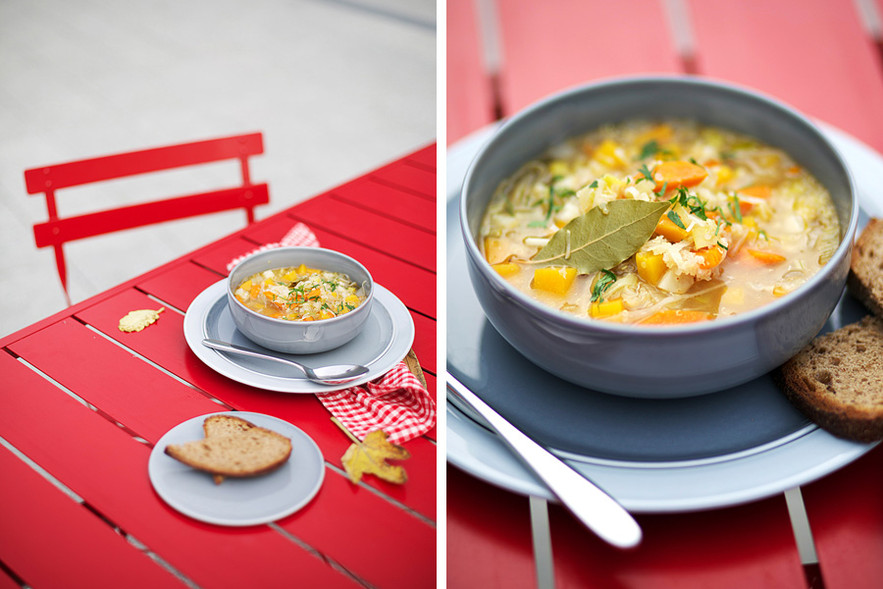 ____________________________
For more Berlin food, visit the Gestalten Pavilion at Bikini Berlin
Budapester Straße 38–50, 10787 Berlin
Monday–Saturday 10:00–20:00. Café open until 22:00 and on Sundays
Budapester Straße 38–5010787 BerlinGoogle MapsMonday–Saturday 10:00–20:00Cafe open until 22:00 and on Sundays
Budapester Straße 38–50, 10787 Berlin
Monday–Saturday 10am–8pm, Café open until 10pm and on Sundays