Gestalten Outdoor Favorites
We have selected some of the best products for outdoors activities from our various books for you.
Over the course of publishing hundreds of books, we at Gestalten have created a database of innovative and mindful creatives and manufacturers all over the world. In order to make the fruits of their labor and of our love accessible to more people, we have selected some of the best products created by these people and present them for your inspiration and enjoyment. Some of them can be purchased through our web shop; all of them are available at both Gestalten Pavilion and Gestalten Space in Berlin.
Since the next few months still offer plenty of opportunities for adventures ranging from week-long hiking trips to picnics in the forest, we have selected some of our favorite outdoor products to accompany you while you collect unforgettable experiences.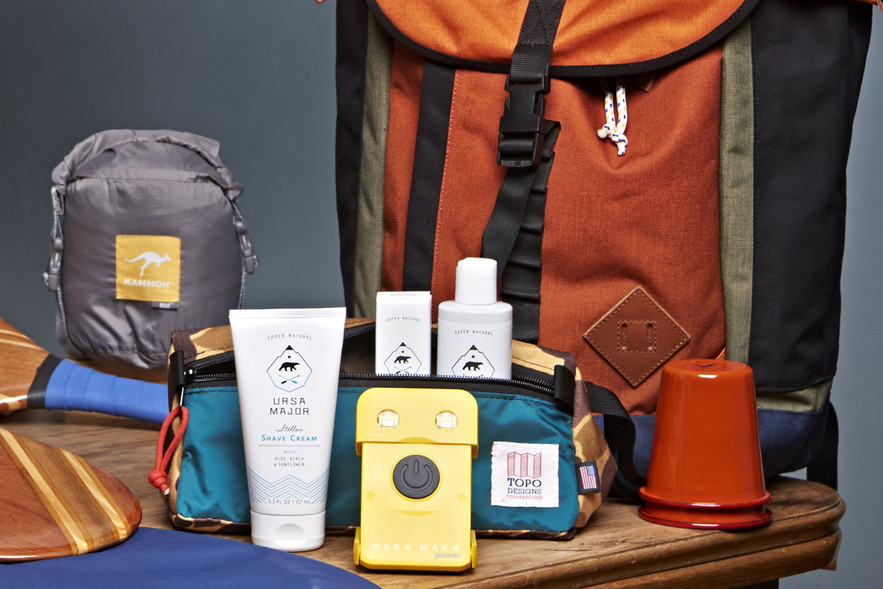 Skincare Set by Ursa Major x Topo Designs 
The natural skincare brand Ursa Major has teamed up with apparel manufacturer Topo Designs to offer this practical travel set for a simple yet robust daily skincare regimen. It is small enough for the travel-light crowd but roomy enough to hold all you need to look good on the road. The pack cloth lining is water-resistant and the wrist strap makes it easy to carry. And it offers everything a man needs to develop and maintain clear, healthy, comfortable skin: face wash, face tonic, shaving cream, and face balm. You can purchase this limited-edition set in the Gestalten web shop. 
WakaWaka Power Smartphone Charger
Carrying a smartphone on your outdoor adventures is far from a whim, but often a necessity. The WakaWaka Power is a durable, lightweight and compact solar charger that charges virtually any type of phone or small electronic device within just two hours—and provides up to 150 hours of light to boot, without any batteries needed.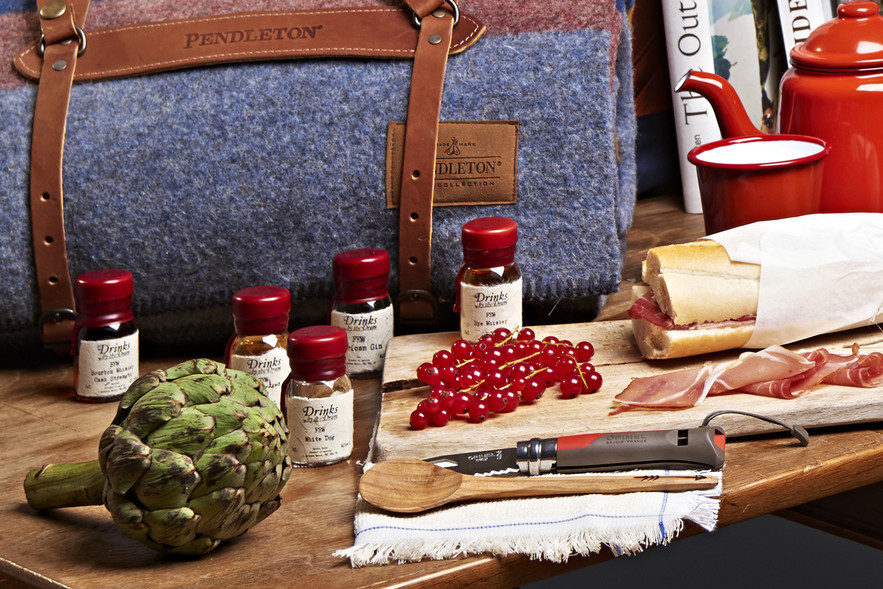 Opinel Outdoor Knife
Opinel is such a household name in France, it even has its own dictionary entry. The family business has been producing knives since the 1800s and has perfected the design to such a degree as to be considered a classic on par with the Porsche 911 and the Rolex watch. The Opinel outdoor knife combines all the qualities the brand is famous for—the ergonomic handle, the safety ring, the durable sharp blade—with qualities that make it particularly suitable for sporting activities at sea or on the mountain. The thick, resistant blade has a serrated area to cut ropes, accompanied with a shackle key, a handle resistant to extreme temperatures and water, and a whistle built into the handle.
FEW Spirits Tasting Set by Master of Malt
Whether it's to warm the body or the soul, many a movie and book have created a strong romantic association of wilderness and a sip from the hip flask in our minds. But celebrating the arrival at your destination could hardly be done with more style and flavor as with the FEW Spirits Tasting Set, which consists of some the craft distillery's most famous gins and whiskies: American Gin, Barrel Aged Gin, Bourbon Whiskey Cask Strength, Rye Whiskey, and White Dog. Incidentally, FEW Spirits is located in the home of prohibition, Evanston, Illinois, and takes its name from the initials of Francis Elizabeth Willard, a local champion of the temperance movement.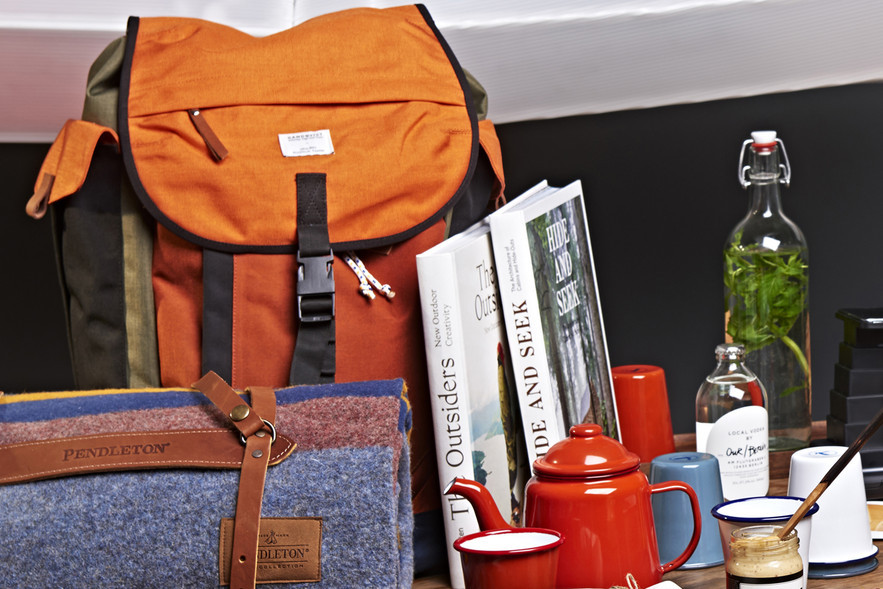 Yakima Camp Blanket by Pendleton
Pendleton was founded by an English weaver who emigrated to Oregon in the United States in the mid-19th century, and the family business has been producing first-class woollen blankets since. Its camp blankets were first designed to meet the rigorous demands of the wild and untamed Pacific Northwest and were a favorite of the early sheepherders. Today, they continue to offer outstanding warmth and comfort, no matter whether you use them for fish camp, sleeping on the porch, or in your kids' bunk beds. 
Mugs and tumbler by Falcon Enamelware
Enamelware—porcelain fused onto heavy-gauge steel—is going through something of a revival at the moment, replacing tupperware and other plastics as the durable material of choice in many (camping) kitchens. Falcon Enamelware has been an icon of British home life since the 1920s and has recently revitalised its range with new sets and colors. Apart from its nostalgia-invoking elegance, what makes it special is its strength: it may chip but won't break or burn, even on a gas stove.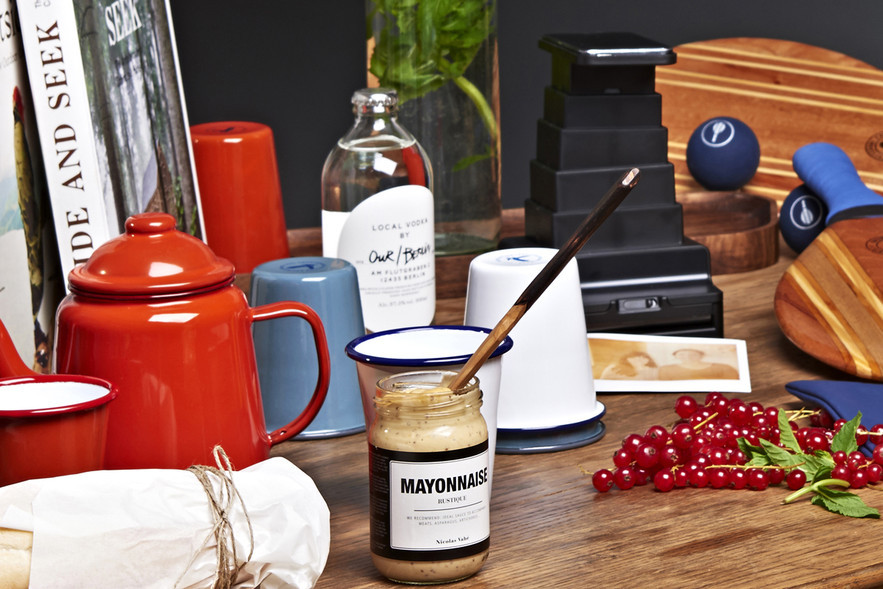 Wooden spoons and cooking utensils by Hachet+Bear
The British designer Ej Osborne started carving wooden spoons after the urge overcame her while in a fever. What started as a fire in the belly turned into an outright obsession: only a few months after the birth of Hatchet+Bear, it had become her full-time occupation, and her lovingly crafted, light and durable cooking and eating utensils are a favorite amongst hikers, campers and people who appreciate natural materials. 
Mayonnaise rustique by Nicolas Vahé
Frenchman Nicolas Vahé trained first as a chef at three-star Michelin restaurant Pic Valence, then as a chocolatier with the world famous Daniel Giraud Valence, then as a pastry chef at Falsled Kro in Denmark. This combined knowledge now goes into his range of gourmet products, of which the mayonnaise rustique is one of our favourites for its ability to instantly turn any vegetable or meat into a delicious meal. 
Our/Berlin Vodka
Opened in September 2013 in a Treptow distillery, Our/Berlin is the first member of the new premium vodka family created by Pernod Ricard. The vodka is produced according to a local recipe, using Berlin water and German wheat, and is perfect to share with your companions on your next adventure.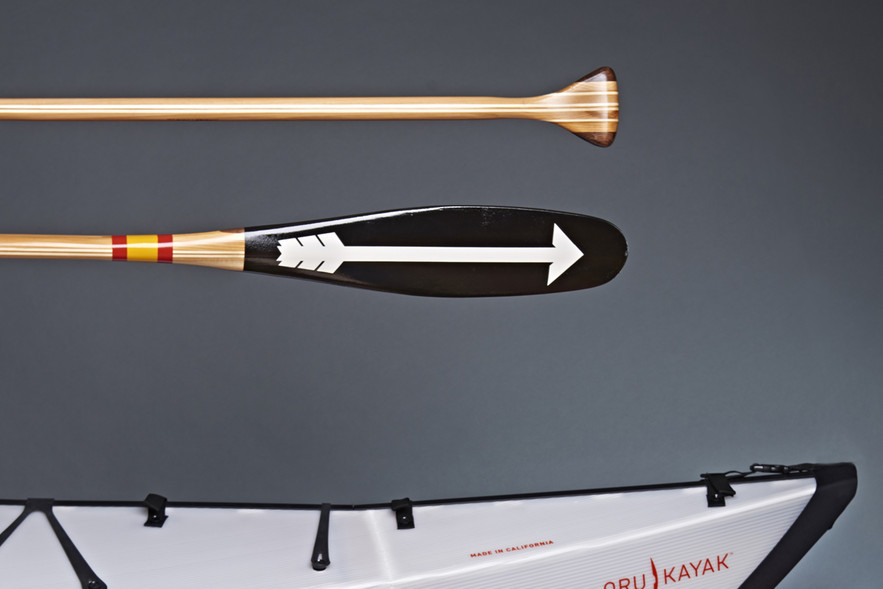 The Oru Kayak
"From box to boat in five minutes," Oru Kayak claim, summing up what makes this item so special. It's light , compact, and on the water it glides like a dream. It is stable enough for beginners, sporty enough for experts, and there's lots of room to stash gear (or a picnic) for day trips and short camping excursions.It's so well-designed, even the San Francisco Museum of Modern Art is exhibiting it. 
Paddle "North" by Gestalten x Sanborn Canoe Company 
"May your compass always point you towards the wilderness," is the motto of the founders of Sanborn Canoe Company. The venture began with a few friends from northern Minnesota, US, setting out to build a cedar-strip canoe one summer with the help of a how-to book. After the canoe came the paddles, and the desire to learn ever more about paddle-making. And not much later came  this limited-edition paddle produced for Gestalten, made from three types of wood and with an elegantly traditional blade shape that looks just as good on your wall as in the water. You can purchase this exclusive in the Gestalten web shop.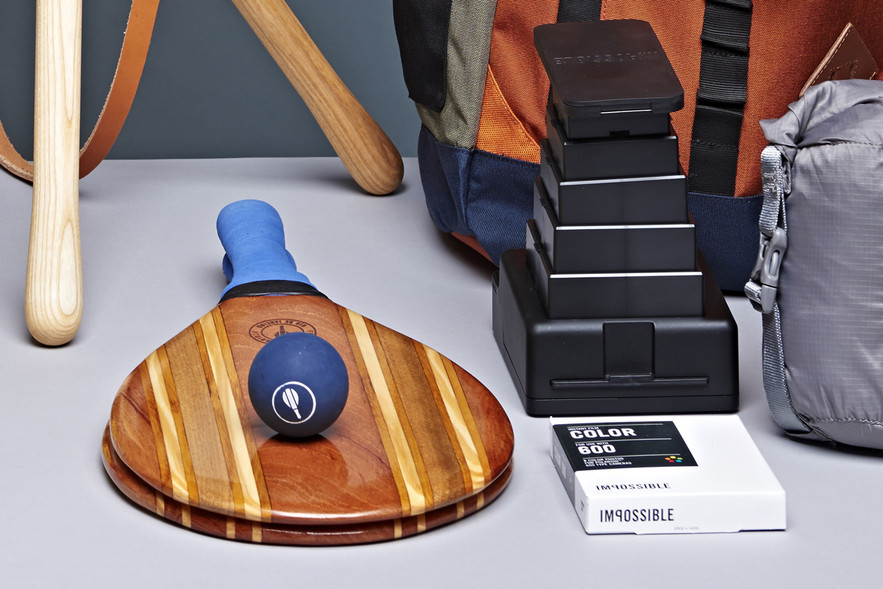 Frescobol Carioca Leblon Beach Bat Set 
People have been playing beach bat and ball up and down beaches of Brazil since the 1940s. The Frescobol Carioca beach bats are now making the Brazilian "carioca" way of life available all over the world, allowing you to turn any park, garden or street into Copacabana beach. But be warned: bat and ball is highly addictive. What makes these Frescobol Carioca sets special is that they're handcrafted in Brazil, by artisans who select the most beautiful wood cuts and carefully pair individual pieces so as to give each bat its own distinct look and feel. This item is available in the Gestalten web shop. 
Instant Lab Polaroid Camera + Instant Color Film by The Impossible Project
One of the most beautiful things about adventure is sharing it with other people, and that's why we would take the Instant Lab Polaroid Camera along with us: to transform the photos from our smartphones into photographs and give them to the new friends we make along the way.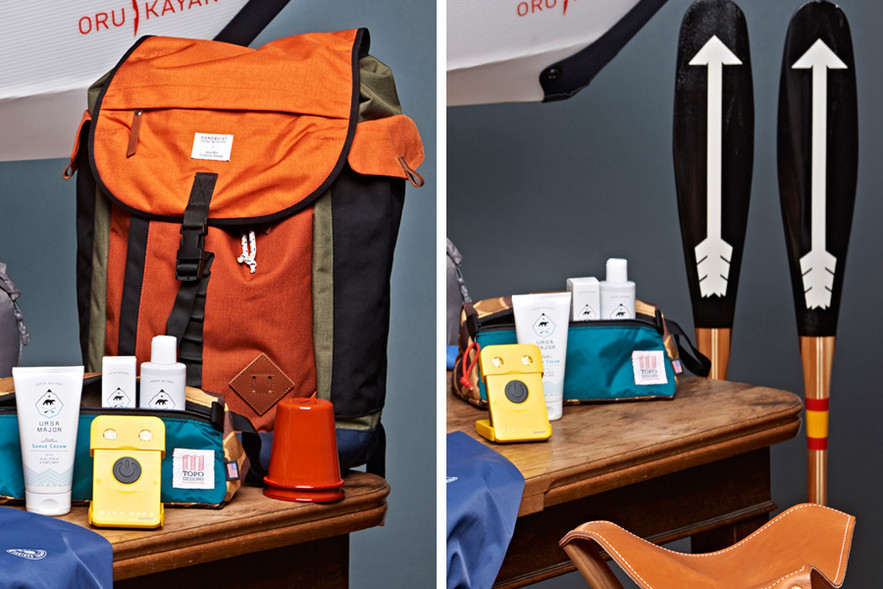 Sandqvist Edmund Backpack
The backpack "Edmund" was inspired by Sir Edmund Hillary, the first ever climber to reach the summit of Mount Everest, together with the Nepalese Sherpa Tenzig Norgay, in 1953. But you don't have to venture that far to enjoy its many advantages. Whether you use it to carry your camping gear up a mountain, transport your work equipment through the city on the back of a bicycle, or hold your overnight kit for a weekend away, you will feel at ease and look en vogue. It's the only backpack you'll ever need. You can purchase it in the Gestalten web shop. 
Wood&Faulk Camping Stool
Wood&Faulk is the one-man company of Matt Pierce, specialising in durable and well-designed leather goods made in in Portland, Oregon. His tripod camping stool, made from ash hardwood and English bridle leather and weighing just over one kilogram, is both practical and beautiful and has thus made his way into our hearts and our camping kits in no time.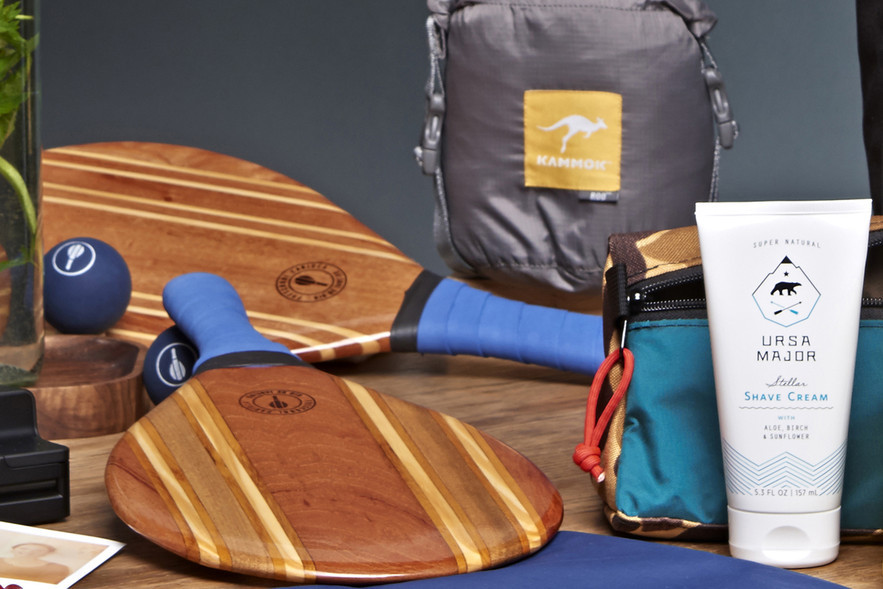 The Kammock Roo Camping Hammock
Inspired by the kangaroo, the Kammock Roo is an incredibly smartly designed camping hammock, providing a similar kind of security and comfort as a pouch. It's made from lightweight and tear-resistant fabric, packs easily into an attached water-resistant sack, and allows for many different tie-out options. Moreover, every purchase supports anti-malaria and development initiatives. 
All the items shown above and many more of our selected favorites can be found at Gestalten Pavilion and Gestalten Space in Berlin.