Gestalten Pavilion Store & Cafe
Newly Opened at Bikini Berlin, April 2014
We are thrilled to open Gestalten Pavilion on the roof terrace of Bikini Berlin today!

Our new 530-square-meter design store and cafe is an ideal destination for experiencing the world of visual culture that we explore in our publications in different ways. This second location in our home city brings us to the heart of former West Berlin while we continue to keep our doors open at Gestalten Space in Mitte, a district in the former East.

The Gestalten Pavilion is a place for discovering design products of quality craftsmanship and innovative ideas melded in ways that are fresh, yet stand the test of time. The meticulously curated assortment includes exclusive brands, products by young designers, and changing thematic showcases of design wares—all selected with the same insight and flair that defines our books.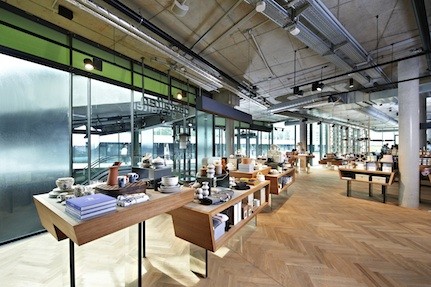 The spirit of Gestalten can also be experienced in the pavilion's cafe, which offers modern, seasonal fare—simple, yet delectably original. Whether seated indoors or outdoors, you can enjoy everything from a small snack to a light dinner with a remarkable view over one of the world's largest zoos. Join us for the opening weekend!
 
Gestalten Pavilion At Bikini Berlin
Budapester Straße 38–50, 10787 Berlin

Special Opening Weekend Hours:
Monday–Saturday 10:00–20:00, Sunday 13:00–18:00
Cafe open daily until 22:00
www.gestalten.com/stores