Gute Aussichten—Good Prospects
Every year, an exhibition at Deichtorhallen Hamburg presents the works of Germany's emerging photography talents. Marking its 10th anniversary this year, Gute Aussichten has established itself as the country's most important prize for young contemporary photographers and a reliable indicator of where this artistic discipline is heading to.
Exceeding expectations and breaking with convention seem to be the central aspects in the work of this year's award winners. The selected works prove surprisingly varied ideas rather than plainly illustrating current trends as described by the competition's initiator Josefine Raab: "An espresso machine drowning in coffee in just brewed. Landscapes that seem to disappear before our eyes. Human being, scared by life on the fringes of society. Gray concrete images of monochrome simplicity, and exuberantly coloful collages of painterly beauty."
Gute Aussichten opens on Thursday, February 6, at 11AM with all nine award winners, Josefine Raab and curator Ingo Taubhorn attending. The exhibition can be visited until March 23 and will then continue traveling throughout Europe and the US.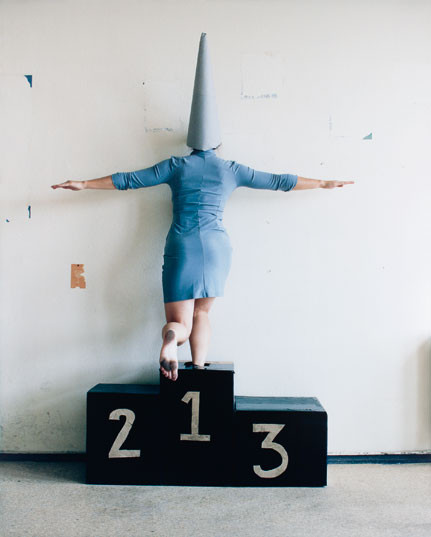 The award winners of 2013/2014 are Nadja Bournonville (Hochschule für Grafik und Buchkunst Leipzip), Anna Domnick (Fachhochschule Bielefeld), Birte Kaufmann (Ostkreuzschule für Fotografie, Berlin), Lioba Keuck (Fachhochschule Dortmund), Alwin Lay (Kunsthochschule für Medien Köln), Marian Luft (Hochschule für Grafik und Buchkunst Leipzip), Stephanie Steinkopf (Ostkreuzschule für Fotografie, Berlin), Daniel Stubenvoll (Kunsthochschule Kassel), and Christina Werner (Hochschule für Grafik und Buchkunst Leipzip).
Photographs:
Anna Domnick, Calm II. © Anna Domnick
Nadja Bournonville, A Conversion Act. © Nadja Bournonville
The magazine to accompany the exhibition has been designed by the studio of jury member Mario Lombardo and can be downloaded here:
Gute Aussichten 2013/2014.