An Interview with Autoban
Istanbul design studio Autoban just completed one of their biggest projects to date, the new terminal at Baku International Airport. In an interview for their Gestalten book, Seyhan Özdemir and Sefer Çağlar explain their approach to design.
For you, what qualities must a space have in order to feel like "home"?
A home should tell about the lifestyle and the personality of the people who live in it. One should be surrounded by the things that one is interested in and inspired by. A home should reflect you, nourish your area of interests (on creative and intellectual levels), and provide the space for these nourishments. It should also inspire you. We believe the furniture and other components of a home shape its owner's mood and quality of life. 
How do your designs for others differ from a space you would design for yourself?
When designing for the client, it is always a project, and a hard one because a home is a personal thing. While creating a space to reflect its owner's persona, you put your own design preferences in the back seat. But at the same time, you are the one who is designing it. So it is crucial to keep these in balance. At the end, you work on a set brief and respond to the brief with your design approach. When designing for your own, it is always a playground. Our approach to design is based on experimenting with forms and material, and creating a totally new experience at the end of it all. From this standpoint, it is always good to have your own playground to try and test your formulas.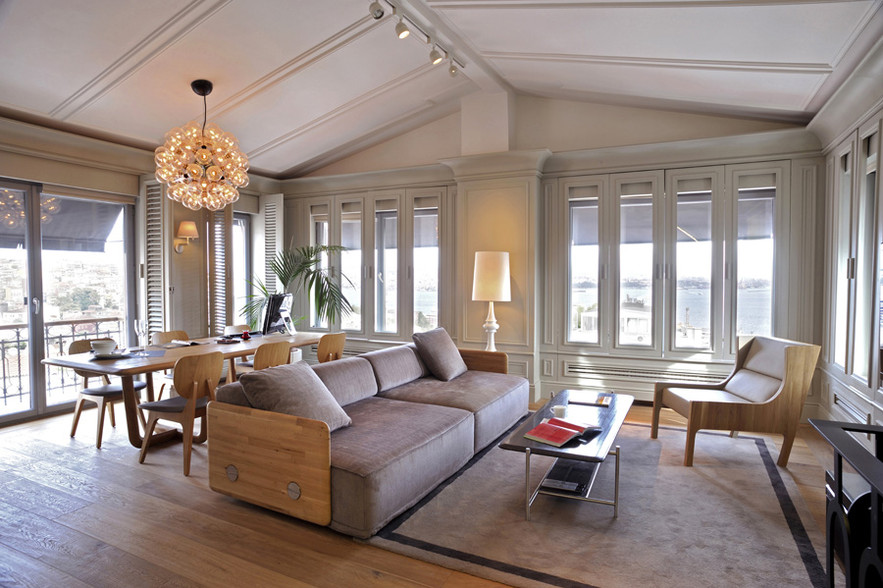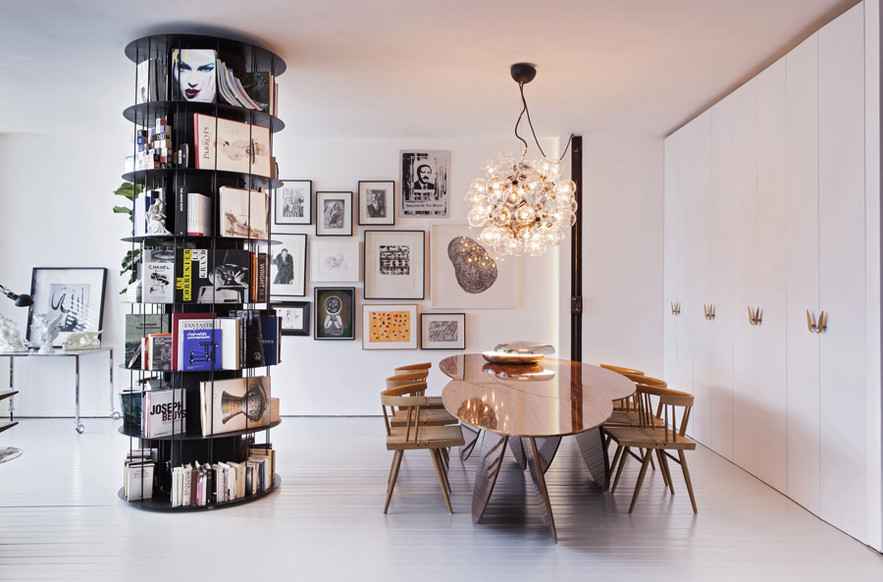 The Ojeni and Opera Palas residences in Istanbul
Color and materials seem important in your design, yet it is usually quite neutral instead of bright or saturated. How do you choose a color scheme and materials for each project?
Actually, the color and material choice depends on the project. However, we have a tendency towards natural colors and genuine materials in our work. This is mainly because when designing a space, we see the space as an architectural shell and make sure that all elements that go in it create a fluent story. Sometimes one specific material or color may stand out, but it is never far removed from the rest. We try to maintain a soft transition between different textures and hues. An art piece, say in bright red, may be the center of attention of a space, but the rest of the furniture and elements shouldn't overrule it. They should work as backdrops.
How does your idea for the design of a space start and how do you develop it?
The main idea of the project usually comes from the space itself. Sometimes from the story of the space, sometimes from its purpose, and sometimes from a combination of factors. If the space is not capable of any of the above, then we create our own second shell in it. At the end, we try to tell a story through the spaces we design and with the products we put in it. And the main plot of this story is always to offer a new experience for its user. We draw sketches and the second phase is always 3D modeling because it allows you to see the space completed and in the most realistic form possible. There is no room for unpleasant surprises. We also prepare mood boards and use CAD, but it is 3D modeling we most rely on in our projects.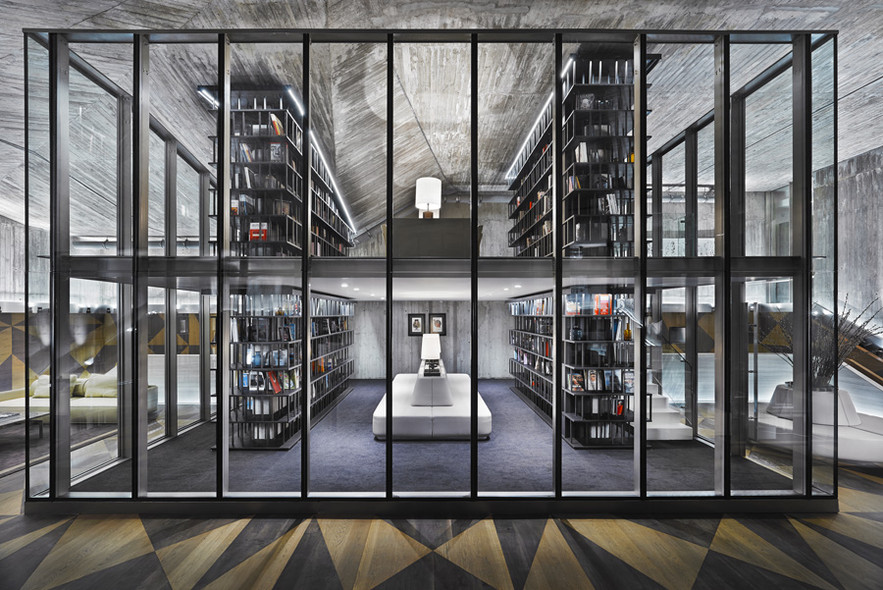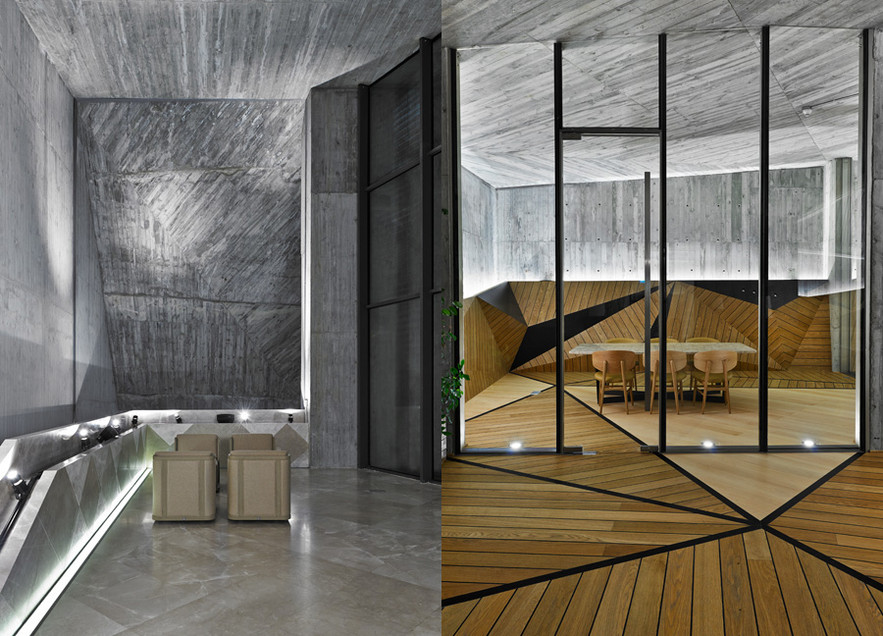 The Savoy Ulus Club House in Beşiktaş, Istanbul
How do you choose when to leave something as-is and when to remake or replace it? What makes you decide to stop scraping away paint layers on a wall, for example, and leave it at a certain point? 
When working with a historical building or apartment, we strip down everything to reveal rich details. And we start working in layers. This multi-layered approach allows us to see and feel each and every period that the building has gone through and create sort of a timeline of its history. It is our way of showing respect to the past. There are times when you reveal, for example, the frescos on the ceiling of an apartment, only to find out that they are way too damaged. We sometimes leave it as is, and sometimes find the right person to fix or complete them. It is the building that tells you when to stop. While preserving these original features as much as we can, we use them as backgrounds for contemporary living. The result is always contemporary.
Can you name a few examples of this approach in the Tünel and Opera Palas residences? 
When we took over the Tünel residence project, the apartment was in a derelict condition. There were some hints of what it looked like in its glory days though, such as the wooden floor, parts of the ceiling frescoes, and the tall, double-hung wooden window frames. We needed to imagine the rest of it to complete the picture, and added just what needed to be added. What we did in this project was to adapt its features to today's way of living. The kitchen was very small so we converted one of the many rooms into a kitchen and turned the original kitchen space into a storage unit. We left the bare brick walls and the ceiling structure above the corridor as is, as traces of the property's past to backdrop contemporary furniture.
Opera Palas is located in a historic apartment that had previously been used as an office space. They had built additional walls to create more offices. When we took on the project, we decided to re-arrange the apartment as an open-plan space to create a 'loft' look. We knocked down most of the walls to have an airy and uninterrupted space. The main idea was to create a contemporary house with a gallery feel—a white cube—to display the new owners' art collection.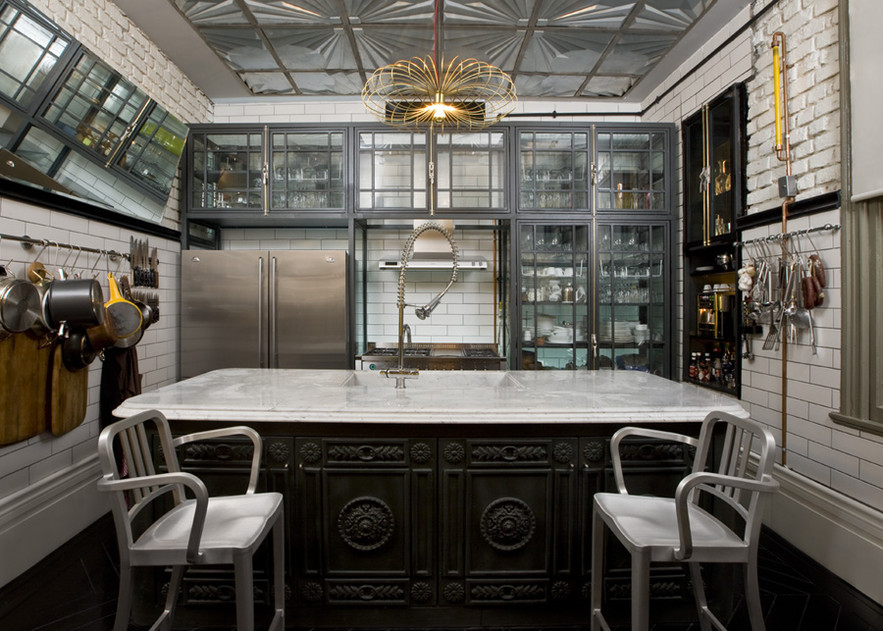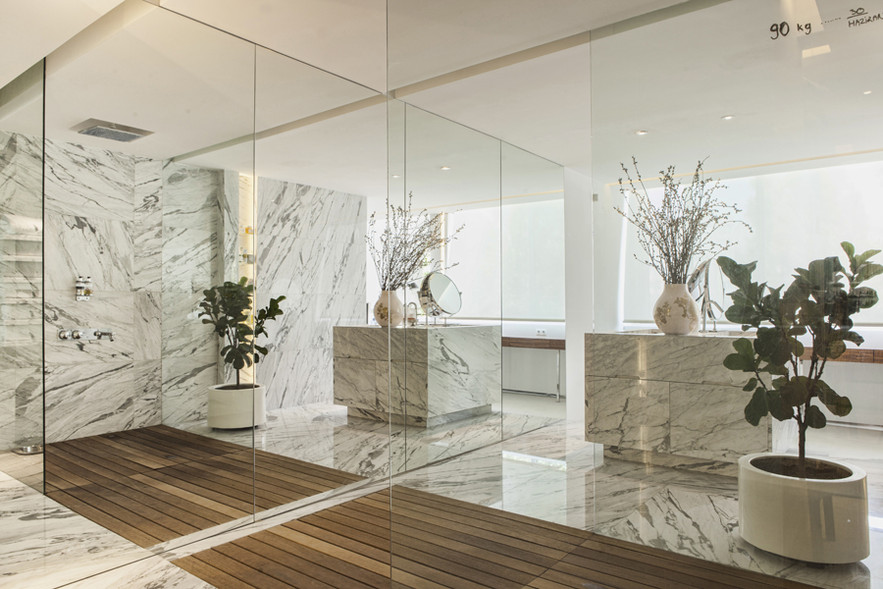 Details from the Tünel and Opera Palas residences
How often do you bring in vintage pieces, and when do you make new pieces based on objects you have found?
We enjoy using vintage pieces in our projects. But more and more we are getting picky about them. It depends on the project, but we generally prefer these found objects to be design classics. And we never use them to fill out a blank space. They should have a real space, a real purpose and meaning within that space. On the other hand, our own product collection keeps growing and we use them more often in our projects, sometimes together with these found objects. And sometimes we design new products for a specific project. Some of these custom-made pieces later find their way into our product range. 
Where are your favorite places or ways to find objects, artifacts, design elements? Any odd places you find them? 
Vintage objects can come from almost anywhere. From the secondhand furniture shops and flea markets to the junk dealers selling their stock on wheelbarrows… Once we found a genuine Herman Miller chair thrown out to the street which we used in one of our residential projects, the Misir Apartment. The starting point for one of our earliest designs—the Spider lamp—was a found object that we saw on the wheelbarrow of a junk dealer by chance.
How often do you have to use a client's artwork or design objects in your design, and how do you fit those into your vision? 
When designing residential spaces, the client's way of living, their hobbies and interests are of course essential criteria for us to consider. But when a client chooses us and vice versa, it means that we have an understanding of each other's tastes, which makes everything easier for both parties. They choose us for a reason—they obviously know and enjoy our previous work. And we decide to work with them only after several getting-to-know-you meetings. Still, there are times when it becomes painful to see how the space you designed is being used. But at the end, when a project is completed and delivered, it belongs to the client. You can't help it.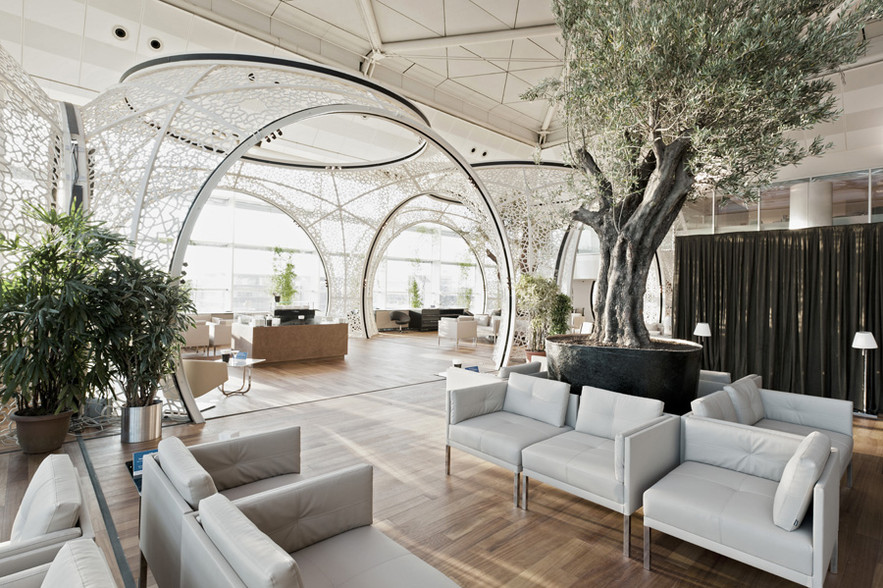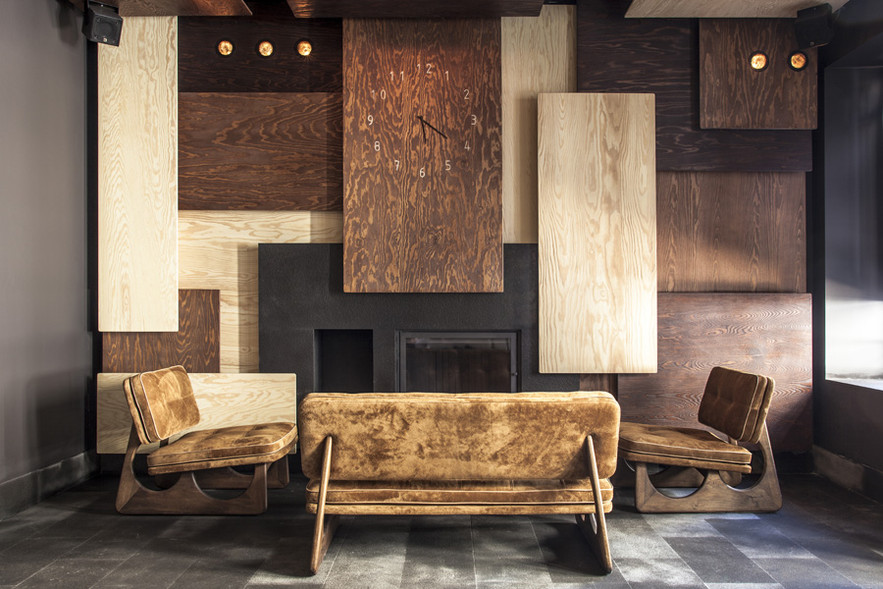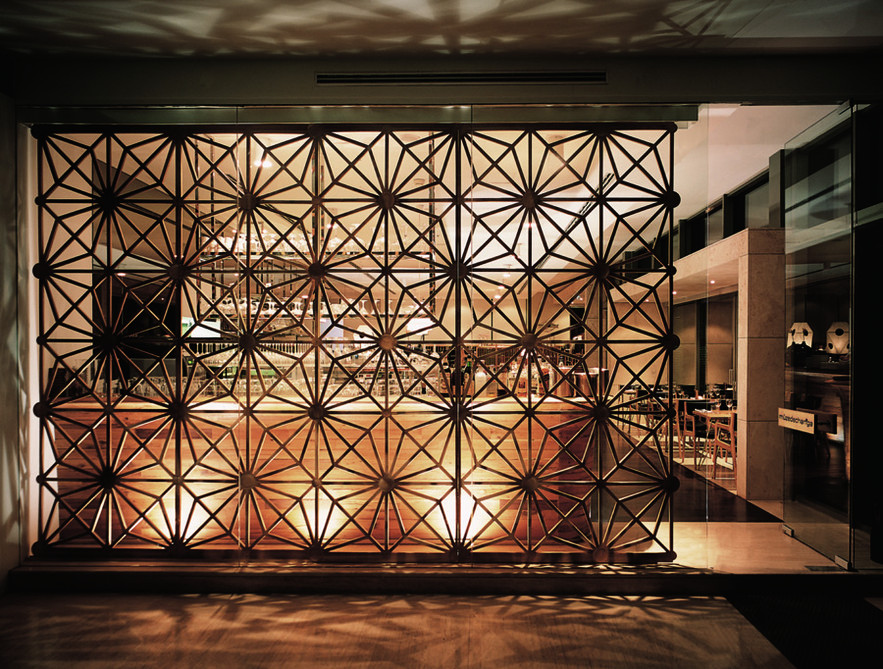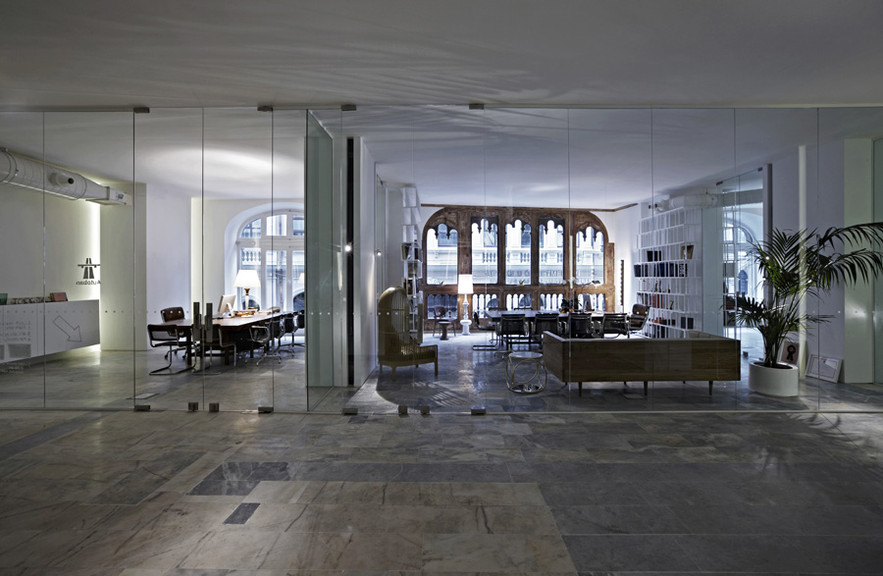 From top: The Turkish Airlines CIP Lounge at Atatürk Airport, which led to Autoban being commissioned the interior design at Baku International Airport; detail from nightlife sport Gaspar in Istanbul's hip Karaköy neighborhood; Müzedechanga restaurant, winner of the Wallpaper Design Awards; Autoban's offices.
Interview by Shonquis Moreno
You can see a full collection of the acclaimed design duo's work in our book Autoban: Form. Function. Experience.
Autoban's interiors are also featured in The Chamber of Curiosity.