Kustaa Saksi & Gert Wingardh
Installation for Stockholm Furniture & Light Fair
Swedish architect Gert Wingårdh and Finnish illustrator Kustaa Saksi have joined creative forces to design the installation that will set the stage for talks on design and architecture at the fair. They have each started out from their own perspective while adhering to a shared vision.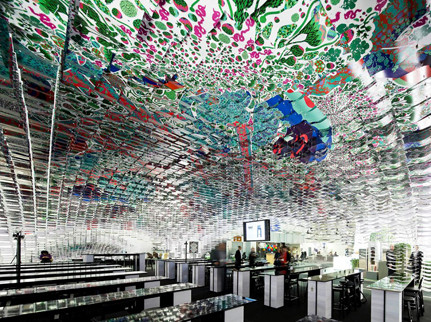 The design suggests a church interior, with rows of high tables in front of an 'altar' where panels hold sway. The table tops are made of a mirror laminate and balance on stacks of A3 paper sheets, 700,000 in total. The entire dome-like structure consists of stacks of paper sheets that hang from the roof in a Venetian blind-like construction. The lowest sheet in each stack carries part of a gigantic illustration that forms the dome-shaped ceiling. Preparations for construction have been going on for months and the actual raising of the dome is something of a never-ending task.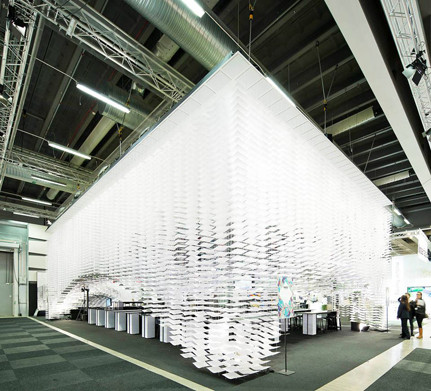 Gert Wingårdh is one of Sweden's most reputable prize-winning architects; his characteristic and artistically assured buildings have become some of Sweden's most iconic landmarks. More of his work is featured in Rock the Shack. Kustaa Saksi is an artist and designer known for his imagination-stimulating and organic illustrations, who has worked for publications such as Wallpaper, The New York Times and Swedish fashion magazine Bon, as well as brands such as Nike, Nissan and Issey Miyake. Her work can also be seen in Illusive 2 and Precursor.