Lodown Magazine
Despite being an advocate of printed matter, we cannot help but recommend Lodown Magazine for iPad users. "Some say it's a simply stunning and fantastic app, others beg to differ and claim that this is the best thing happening to your iPad since the beginning of the digital revolution."
Lodown's current issue includes a really nice profile feature on Clemens Behr, giving an outlook on what to expect of his works shown in SPLITTER, the upcoming exhibition at Gestalten Space. With the recently launched iPad app, Lodown's content is now accessible worldwide, on the go and for free.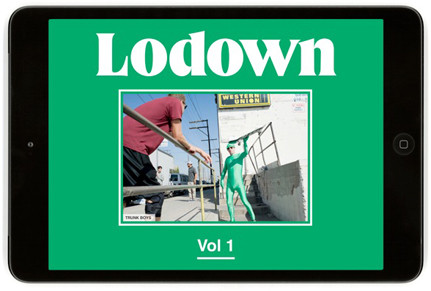 A dynamic, interactive, real-time content source generated magazine, the new Lodown App is separated into two parts: a Pulse and an Issues section, both filled with tons of personal favorites and universal truths from that big bubble named pop culture.
The Pulse section is consistently taking content from the Lodown website as well as from selected external sources—a one of a kind approach to tap into an endless news stream curated by the Lodown network. Whereas the Issues section will be renewed monthly. It derives from the print issue, but is built specifically to fit the digital target medium.
Download the app for free and see its witty demonstration in Lodown's video.