Luzinterruptus
Public Art Installation in Caracas
In September, the Spanish Embassy to Venezuela invited Luzinterruptus to participate in the annual urban art festival. The event celebrates the importance of public space as a place of peaceful coexistence and is held in the Chacao neighborhood of Caracas. 

The resulting piece is called "Portable River" and attempts to bring a river of water to the center of the city. It is normal to see water overflowing the streets every time it rains, so the group packaged it and lay it at rest, making quite an unusual sight. They hoped to make bystanders stop for a minute, admire its beauty, and take the value of this basic element into consideration.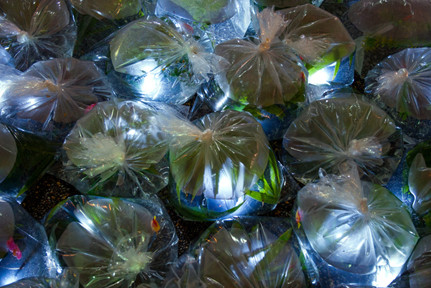 To achieve the urban river, clear water was packaged into 2000 transparent bags, inside of which, in addition to light, samples of the life were included. Each bag turned into a small, ephemeral aquarium, a container of fish and plants. At the end of the night, visitors could carry away the small, illuminated ecosystems, converting the still river into a more fluid one that quickly circulated around the city. 

Luzinterruptus is an anonymous artistic group, that carries out urban interventions in public spaces, utilizing light as a raw material. More of their work can be seen in My Green City and Urban Interventions.