Nendo: 10/10
Elegant, modern, subtle, and playful: Nendo's astonishingly multifaceted work soon comes in a monograph.
An excerpt of Anna Carnick's preface to our soon-to-be released and awaited Nendo book can now be read on L'Arco Baleno: "At each turn, Nendo's work combines the minimalism, subtlety, and functional grace characteristic of traditional Japanese design with a lightheartedness and—at times—almost childlike humor that reflects the country's current pop culture, as well as more Western influences."
Oki Sato founded Nendo in Tokyo in 2002. Since then, it has become one of the most sought-after design studios worldwide. The name nendo is Japanese for modeling clay. It is indicative of the studio's playful, yet rational approach.
"And then, as happens so often with Nendo's work, we begin to consider the world around us with fresh eyes, reinterpreting both everyday objects as well as our relationships to them."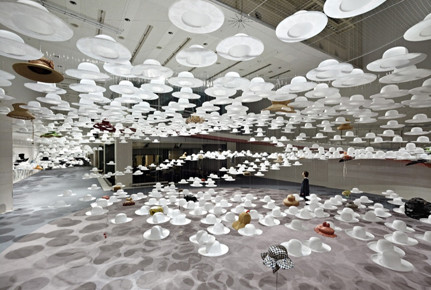 Nendo: 10/10 presents a striking selection of Nendo's work including vibrant store concepts, mystically inspired exhibition spaces, sculptural furniture pieces, home accessories, and design objects. Regardless of how diverse the included styles appear to be, they all give the reader a sense of where the future of design is heading.
Read more about the book and pre-order it here.