New Font: Rigate
A Font Choice for Visual Identity
Our newly released font Rigate is a tender yet straight script typeface—available in two weights and multiple ligatures. Authored by Michael Luther, this stylish font was developed based on the designer's handwriting and is tailored for display usage, especially in magazine and book design. Rigate's ranges of use include logotypes, headlines, posters, and editorial design.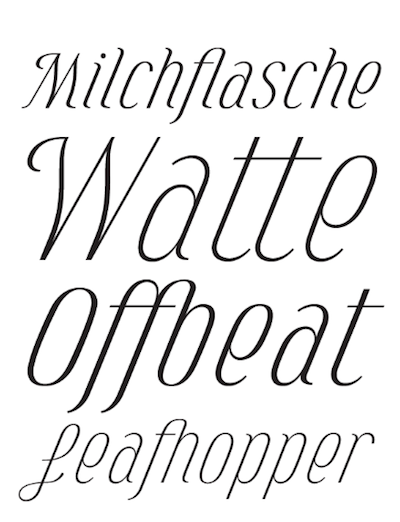 INTERVIEW WITH MICHAEL LUTHER
Perhaps you can give a short update about you, your work and your studio vonSüden.
I founded vonSüden with the two designers Thies Uthmöller and Lutz Rüter in 2008. Our team consists of communications designers and product designers. We are located in Kreuzberg, Berlin. Personally, I enjoy living with my family in a nice part of Neukölln and playing with my 2-year-old son. We are both big fans of all kinds of toys!
What is your main focus in your work and where are your projects located?
Our studio creates corporate image and design, editorial design, font and product design. We work on paper, on the web and in 3D. Our area of specialization lies in more than one sector. Our clients range from traffic engineering to fashion labels.
Did other typefaces or designs inspire you or influence you to design Rigate?
Not directly. It is a personal project with a long development time.
What was your intention to develop Rigate?
At school, I had a really bad handwriting (at least my teachers told me that!). Later, I drew a disproportionate version of my personal handwriting in a more beautiful way. The prototype of Rigate was done. Since then, my handwriting was influenced by the design, and the font was formed by the characteristics of the handwriting. It was some kind of a win-win situation. ;)
How did you develop the typeface, was it more like planning a design or was it a process?
Definitely a process. From that rough prototype—scribbled on some slips of paper, I developed Rigate with its characteristic slant and proportions.
You did not just simply follow the construction grid you designed. Why was that and did you have some other rules for the design decisions?
The first glyphs were in a more strictly construction grid, but there was a lack of life. I interpreted the grid and gave it more freedom. I also added more style to the script and increased the interaction of uniformity and special details.
How did you come up with the name of the typeface?
It happened by accident. I saw a menu of an Italian restaurant and imagined Penne Rigate set in my typeface. Later, when I wrote some testing letterings, I came back to Rigate. I liked the name (and the food)! It doesn't have a contextual or functional meaning. 
Can you tell us a bit more about the usage of Rigate? Where do you see the typeface used, or what would be a dream application?
It is perfect for headline lettering. Legibility was not the main focus, so it is more for display usage than for very small text. Ranges of use are logotypes, headlines, posters and editorial designs. The font would be a very nice application for magazine titles or books.