Nova Iskra
First Design Hub Opens in Serbia
A design incubator dedicated to the professionalization of designers in Serbia and the region, as well as to establishing connections between the sectors of creative industries and manufacturing, opened its doors in Belgrade last month.

On Thursday, December 6th the design incubator Nova Iskra was officially opened in Belgrade, Serbia. A unique multi-functional workspace is being established with the idea to support young creatives form the fields of design, architecture, interior design, visual communications and other related fields. A unique concept in the entire region of Southeast Europe, Nova Iskra is the first realized co-working space in Serbia and the surrounding countries. Professionals from the spheres of design and architecture will have a chance to use the spatial and technical resources of NI for their individual work, as well as to take part in the numerous projects and programs which Nova Iskra is planning to realize, in partnership with some of the leading local and international companies, schools, institutions and experts.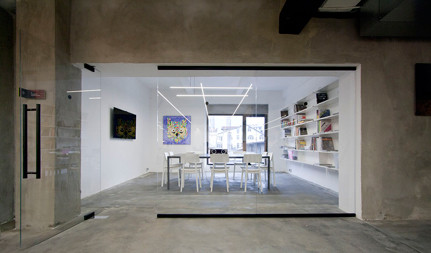 Beside 18 workstations for designers, which have been designed specially for the space by the local design studio Antipod and manufactured by the Serbian factory Simpo-Šik, the young professionals from the wide field of design will have a chance to use all other facilities necessary for their professional work - conference room, modeling workshop, photo booth, personalized cupboard, office and kitchen. The space also hosts an extensive design library, stocking a number of Gestalten books. 

Nova Iskra is offering a brand new model of working based on the "hub" principle, dedicated to establishing both formal and informal connections between creative individuals and teams. At the same time, the hub aims to respond to the needs of local authors of younger generation, who are in desperate need of quality workspace, technical resources, specialization and practical education, as well as communication to potential clients and partners.