Opiemme in Calice
Last chance to see his solo show in Italy
Street artist Opiemme is back with his first solo show in his home region of Liguria, Italy, open until July 18th at Punto Due Gallery in Calice, where he is exhibiting ten works strongly connected to typography art and with background music by British producer Hedflux.
It has been a year since Opiemme's last personal exhibition, No Flags, in Seville, Spain. In the meantime Opiemme has taken part in some of the most important art fairs in Italy, such as The Other in Turin, Art First in Bologna, and Road to Contemporary in Rome, thanks to Zak Gallery from Monteriggioni, Tuscany.
In the '70s Calice was home to artist Emilio Scanavino, to whom Opiemme has dedicated a tribute, and various other representatives of the "Visual Poetry" movement.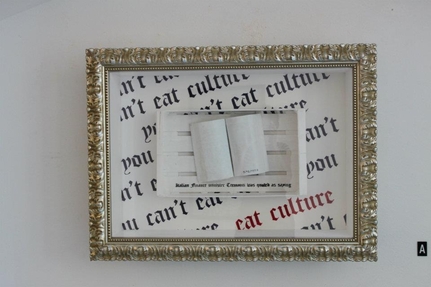 The only work present at the show referring to social and political research, which often emerges in Opiemme's public art work, is "You can't eat culture," a tribute to a quote by Italian Finance Minister Giuilio Tremonti in 2011. From a specific quote it has become a defining aspect of Opiemme's journey, where words become symbols. A book thrown away in a fruit crate, incased in an opulent frame. Words become visual metaphors, and at the same time visual metaphors become words: images to be read and words to be looked at and admired. This is the aspect which characterizes Opiemme's work maybe even more than his street art and street poetry work.
More work from Opiemme can be seen in Tangible: High Touch Visuals.