Paper Weight
Contemporary Magazine Culture
Munich's Haus der Kunst is showcasing 15 international, independent magazines that have originated over the past 13 years. With Felix Burrichter from PIN-UP as its curator, the show provides an insider's perspective on the independent publishing world. Visually engaging, these genre-defining magazines present distinctive viewpoints—often driven by the vision and obsessions of a strong personality.
Supposedly niche publications, the selected magazines all have contributed to broader cultural and especially editorial shifts in a variety of subjects from art, design, architecture, food, and fashion. But most of all, they rethink the potential of the magazine as a medium in the new media landscape: "The growing influence of digital media has also manifested an opposing trend: The highly conceptual, idiosyncratic, and high-quality crafted design of specialty magazines," says director Okwui Enwezor.
Read more about the contemporary zines' media strategies in Behind the Zines and see Andrew Lososwky talking about why today's magazine industry is more fascinating then ever on Gestalten.tv.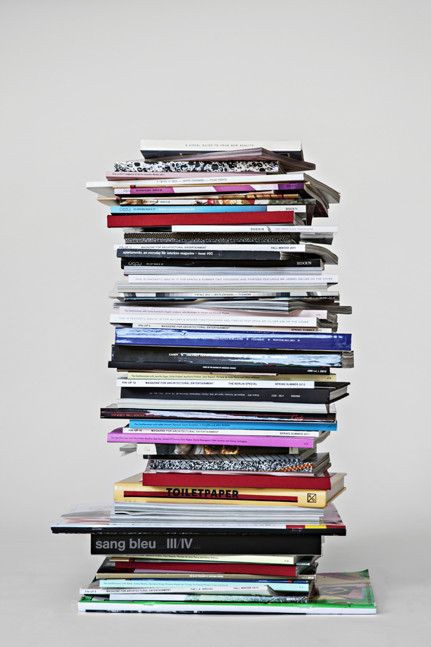 Pile of magazines selected for the exhibition, Photo: Matthu Placek.
Paper Weight — Genre-defining Maagzines 2000 to Now runs from July 12 to October 27. The opening takes place on Thursday, July 11, at 7 PM.
Participating magazines are: 032c, Apartamento, Bidoun, BUTT, Candy, Encens, EY! Magateen, Fantastic Man, Girls Like Us, Picnic, PIN-UP, Sang Bleu, The Gentlewoman, Toilet Paper, and White Zinfandel.