Paroli
A Display Typeface by Elena Schneider
Developed by designer Elena Schneider, our new Gestalten font Paroli is a lively, easy-to-use type family that was originally drawn as a ludic counterpart of Eskorte, Schneider's debut release in 2013. Setting itself apart with its brushy outline and a smooth Blackletter touch, this font is recommended for bold signage and original headlines.
INTERVIEW WITH ELENA SCHNEIDER
Your name/Company name and a brief introduction about yourself:
My name is Elena Schneider. I'm a type designer from Germany, currently living and working in Hamburg and Húsavík, Iceland. I have a diploma in graphic design from the University of Applied Sciences and Arts. In 2011, I graduated with a master's degree in typeface design from the University of Reading, UK.
A short description about the font:
Paroli is a display typeface, originally drawn as a ludic counterpart of Eskorte, a type that is published by Rosetta Type Foundry. It has a brushy temper with a friendly Blackletter touch.

Can you tell us something about the background, why you began to work on Paroli?
While developing Eskorte in the MATD program at the Reading University, I learned that typeface design is about being rigorous and discarding the shapes that you have fallen in love with but don't match the idea of the overall visual concept. However, it was my first typeface design and I wanted to experience as much as possible. So the idea was to do everything I wanted with Paroli while being very strict with Eskorte. It was also helpful to have two different designs to work on simultaneously—to keep things fresh and appeal to the eye.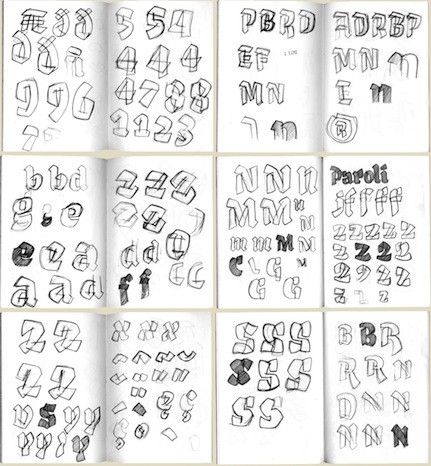 But we also know, while you worked on your very first family, Paroli was planned as a display version of Eskorte, but later you separated them, and Paroli isn't part of Eskorte anymore. Can you tell us something about that relation?
Well, eventually I thought that Paroli was too peculiar to be part of the Eskorte family. I wanted Eskorte to be an easy-to-use type family. The idea of having an extreme display included in it was already too much, so I decided to separate them instead of adapting the whole typeface to make them match.

How important was the influence of Gerard Unger on your personal kick-off in type design?
The kick-off workshop, supervised by Gerard Unger, is one of the first things to happen in the MATD program at the Reading University. And in my opinion, it was the perfect way to get us started with typeface design. The task was to create a typeface (lowercase only) for small sizes. The most important thing was not to learn how to design a typeface in four days, but to experience the fact that it is principally possible to do it. And even though the results were far from being finished, I was very surprised by how good these typefaces turned out to be. Gerard Unger is a very kind person and a highly gifted type designer. That makes it easy to win the students' confidence. I think he just wipes out our "fear" of getting it started. At least that's what happened to me.

Paroli has much from a handwriting script. How much drawing and work with real sketches is in Paroli's DNA?
I draw a lot. It's a fast and imaginative way to find shapes and try out new ideas. Curves drawn with a pencil are much more lively than instantly constructed curves on the screen, I find. The difficulty is, to maintain this liveliness when converting the sketches into actual letter shapes.

Were there any difficulties you had to face during the design process?
The difficulty for me was to not draw a new typeface each day, but to stay focused. I had so many ideas while developing Paroli that it was hard to find an end to it.