Quo Vadis, Editorial Design?
Treats for the eye; thoughtless; thirst for knowledge—Where do we go from here? Quo Vadis, Editorial Design?, namely QVED, a six-day editorial design conference has just opened its door in Munich today.

From February 28 until March 2, designers, journalists, and publishers will tell the stories behind story-telling magazines. They will discuss their latest work, allowing insights into their successful and failed projects alike, and illustrating examples of stories that inspire them as well as their work. At the crossroads of cross-media design, each of them will bring out into the open what makes their everyday life, from image and script, apps and print to desire and passion.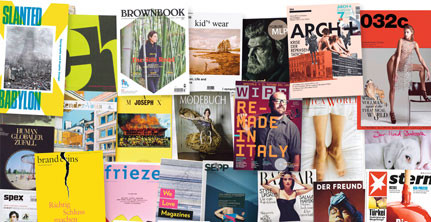 Stories will be told by Johannes Erler (Stern), Stefan Kiefer (Spiegel), Mike Meiré (Meiré & Meiré), Raban Ruddigkeit (Freistil – Best Of German Commercial Illustration), Patrick Waterhouse (Colors), Pekka Toivonen (Kasino A4/FAT), James Cartwright (It's nice that), David Moretti (Wired Italia) and Wilhelm Vossenkuhl speaking with Rolf Müller.

This conference will define highlights leading the way for groundbreaking projects in editorial design: story telling via concepts, design, content, photography, and typography. To find out more about the speakers and conference program, click here.
(Photos by QVED. #qved2014)