"Splitting wood is like opening a Christmas present."
Ej Osborne of Hatchet+Bear, who was featured in our book The Outsiders, became hooked on woodworking while in a fever. Here, she explains what makes wood such an extraordinarily rewarding material to work with.
The designer Ej Osborne founded the woodworking studio Hatchet+Bear in 2013. In a matter of just three months, she made carving spoons, bowls and other cooking utensils her full-time occupation. With her products now available at both Gestalten Stores in Berlin, we have asked her about her love affair with wood. 
"I have always been a maker of things. Years ago, as a designer, I used to dislike wood because I thought it had a mind of its own and I couldn't control it as much as inorganic, man-made materials. Then I realized how amazing that actually was—that a material has been living its own life and has had its own plans and that you have to work with it, as opposed to against it. When I realized this, I realized that I loved working with wood. My attitude towards design changed, as well as my outlook on life. I cannot imagine not working with wood.
"I have been carving spoons for about four years now. The short story is: I caught the flu (the proper flu, not just a common cold) and I was tucked up in bed, hallucinating in between bouts of restless sleeping. I remember waking up, throwing back the covers, and getting out of bed. Almost falling down the stairs, half naked and in a frantic state, I made my way to the garden, grabbing a knife on the way. I took an old branch off a bonfire pile and dragged it back into the house, where I exclaimed, 'I need to carve a spoon!' I was helped back to bed. I must have looked crazy. I was crazy. But the thought stayed with me and as soon as I was well again, I began to learn how to carve spoons. I am now an obsessive spoon carver.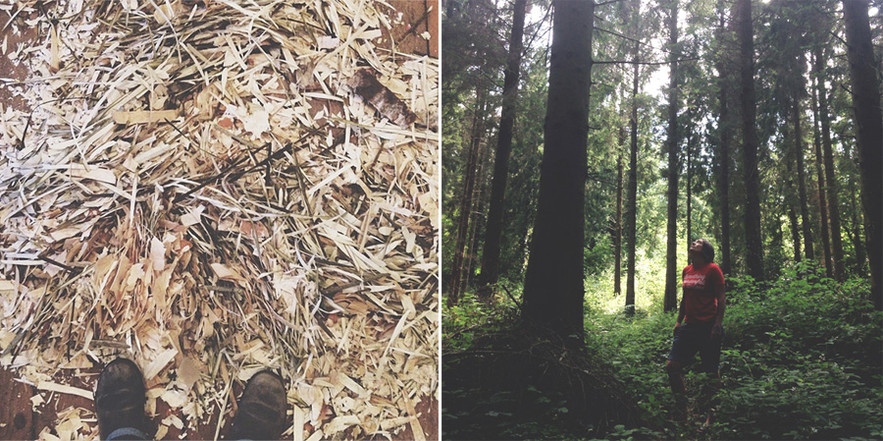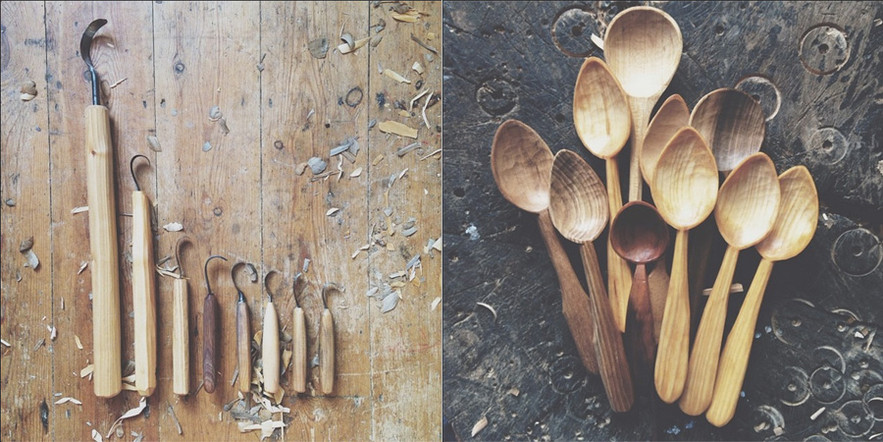 "What I like about wood is its beauty, its warmth, its indifference, and its uniqueness. Its amazing natural properties: it is insulative, conductive and antibacterial, which all make for great cooking and eating utensils. I like the fact that it has endless possibilities. And most of all I like the fact that it comes from trees.
"I use locally foraged, native hardwoods. All of them can be used for the products that I make, but I have learnt along the way that some wood varieties and their characteristics are better suited to specific uses. For example, wild cherry wood really doesn't like being made into Viking's Beard Combs! There is a lot of cellular plant biology to explain why this is. But the most important thing is that the structure of a piece of wood—its shape and grain directions—are exploited to make utensils that not only look good, but are strong enough to last a lifetime.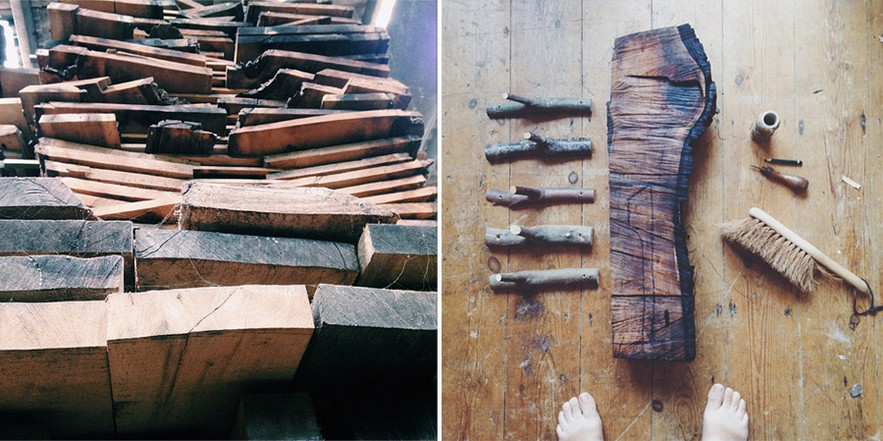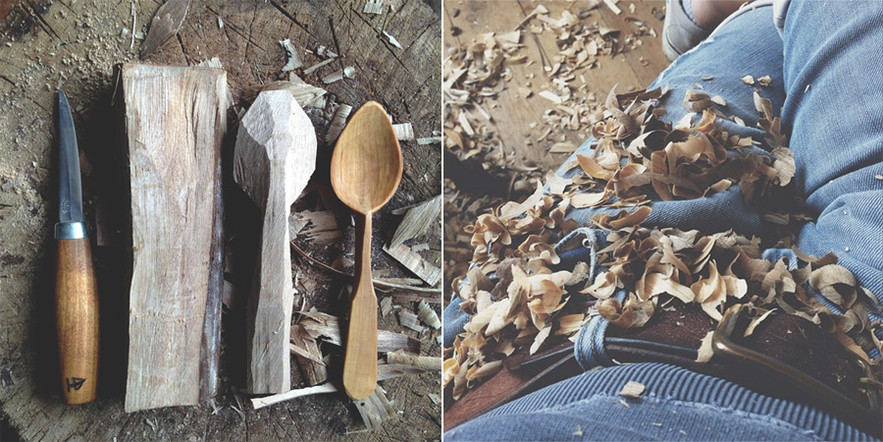 "I don't really know what is going to happen or what I'm going to make until I split the log. When you have decided from the start that you are going to work with wood, then you must wait and see what is happening inside it. Some wood will look straight on the outside, but when you split it, it might be really curved and contorted on the inside. It is at that point I'll have an idea of the best direction to take and what the most suitable utensils to make will be. Splitting wood is the most exciting time for me. It's like opening a Christmas present as a child, every time.
"The people who buy my spoons are people who enjoy cooking and the experience of using timeless products that become more beautiful with age and use. Personally, I really like using the Poking Spatula. It suits my style of cooking: I tend to poke and prod and shift things around in the frying pan a lot. It is equally great for stirring porridge, which I eat quite a bit of. I also often sit and twiddle or spin spoon handles while thinking. I find it very relaxing.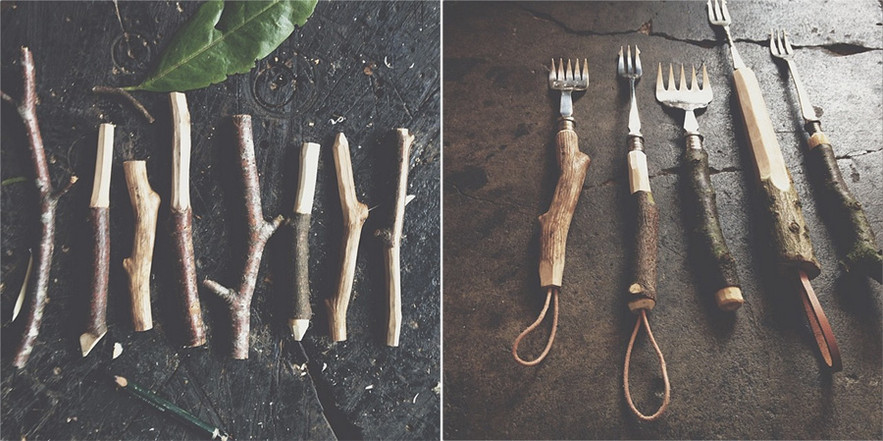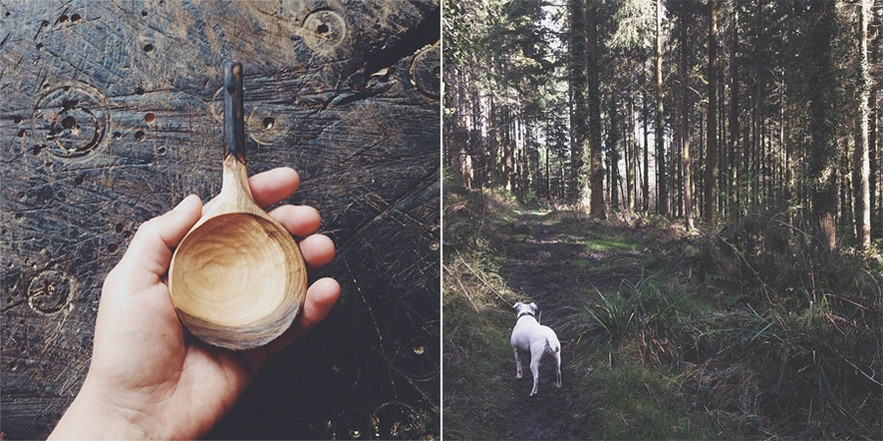 "This is the first year of the Hatchet+Bear Spoon Workshops and the reaction has been amazing! I didn't really know if anyone would be that interested and I just began with three dates, to test. They sold out, so I put more dates up and now we're almost fully booked until the end of the year. It has been an amazing journey and has far exceeded any expectations I had. I have learnt so much about people and the power of making, the need to tap into our creative ability and using raw organic materials – it is meditative, mindful and has healing properties. I now also get called away to teach small groups motivational and inspirational spoon carving workshops.
"I've made tables, benches and other furniture items, as well as wall panels and sculptures, but I like the utensils best. I have a lifetime's worth of spoon designs to develop, and that is what I am going to do."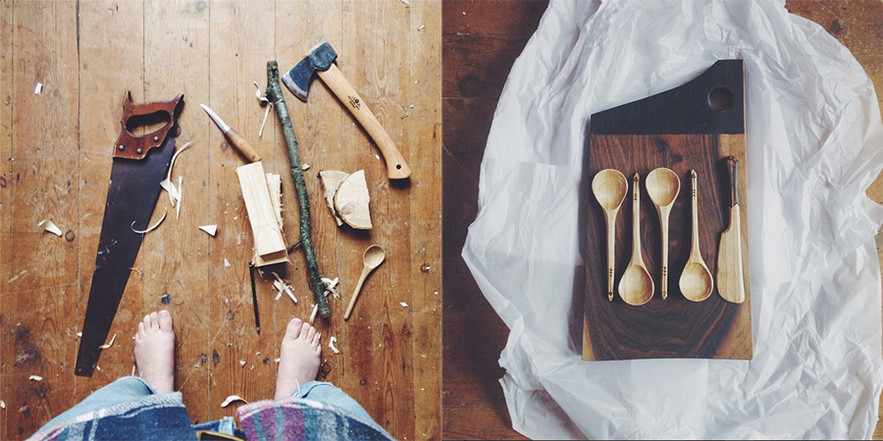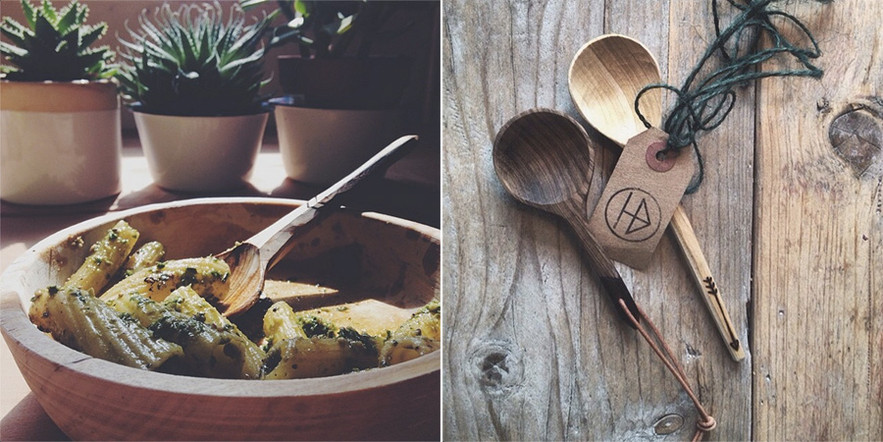 You can find Hatchet+Bear hand-carved spoons and other cooking utensils at the Gestalten Pavilion and Gestalten Space in Berlin. 
Hatchet+Bear is also featured in our recent book The Outsiders: New Outdoor Creativity.