Symphonie Cinétique
Joachim Sauter & Ólafur Arnalds at MADE
The closing weekend of this interdisciplinary show at MADE is heralded by the release of a video presenting Joachim Sauter's (ART+COM) and Icelandic composer Ólafur Arnalds' artistic dialogue. The exhibition is open until, and including Sunday, July 28.
Symphonie Cinétique—The Poetry of Motion introduces the journey that Sauter and Arnalds ventured on together at MADE, which culminated in the creation and performance of a Gesamtkunstwerk fusing light, motion and sound. The exchange between these two craftsmen, each coming from a distinctly different discipline, results in a magic alliance between Joachim Sauter's kinetic pieces and the heart-touching music composed by Ólafur Arnalds.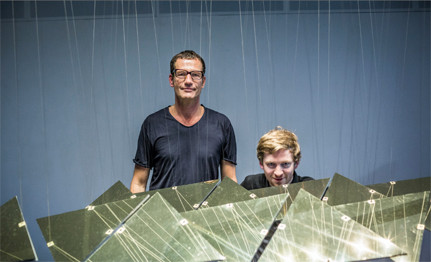 Sauter's delicate pieces, created and designed together with his ART+COM colleagues, are known for setting international standards of excellence in spatial media communication. The first comprehensive collection of the studio's work has been published by Gestalten: ART+COM Media Spaces and Installations.
The Symphonie Cinétique is open daily, 4 PM – 7 PM at MADE.
Images by MADE
Video by Matthias Maerks