A Taste of Munch
Outdoor Exhibition in Berlin
This year marks the 150th anniversary of Edvard Munch's birth. As the celebration is not limited to his home country Norway, exhibitions worldwide pay tribute to the great forerunner of expressionism. Germany, and Berlin in particular, have been especially important for Munch's artistic development. An outdoor exhibition at Potsdamer Platz now revisits his time in Berlin and points out how it influenced his subsequent work.
In 1892 Edvard Munch was invited to exhibit at the Verein Berliner Künstler. Only a few days after the opening, the exhibition was taken down, because his paintings were perceived as depictions of human feelings that were too provocative. But regarded retrospectively, this was only another step towards an international career and a catalyst for the Berlin Secession. Now parts of this then scandalous exhibition return to Potsdamer Platz as high quality outdoor exhibits.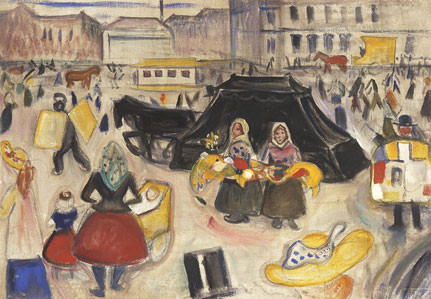 A Taste of Munch will be inaugurated next Friday, November 29th at 12PM, with the director of the Norwegian Munch Museum, Stein Olav Henrichsen, attending. An affiliate conference will then take place at Pariser Platz, organized by the Nordic Embassies Berlin and the Akademie der Künste. If you'd like to join in for an afternoon with a lecture by Stein Olav Henrichsen, a panel discussion with Munch experts from Berlin and Oslo, and Gestalten's presentation of Edvard Munch 1863-1944, please register at the ismo [at] mfa.no (Nordic Embassies Berlin).
Photograph: Edvard Munch © Munch-museet, Munch-Ellingsengruppen, BONO Oslo 2013.
Painting: Edvard Munch, Leichenwagen am Potsdamer Platz, 1902, © Munch-museet, Munch-Ellingsengruppen, BONO Oslo 2013.