True Legend
Who built the world's most notorious motorcycle?
Custom-built for the 1960s cult-classic Easy Rider, Captain America is the most famous motorcycle in the world. Manifest in its perfect lines, proportions and killer paint job, is the ultimate expression of America, freedom, power, speed, and sex. And drugs. And rock music. As the much-coveted object of art goes up for auction on October 18, the question as to who built the machine of dreams is more current than ever.
In the Gestalten release, The Chopper: The Real Story vintage motorcycle expert Paul d'Orléans goes beyond myth and stereotype to provide a comprehensive history of this quintessential piece of Americana. His investigations into the makers of Captain America not only introduces readers to inherently cool, cultural provocateur Clifford A. "Soney" Vaughs, but reveals the established legacy of African-American chopper builders in 1960s Los Angeles.
In our exclusive excerpt from the chapter on Easy Rider, Paul d'Orléans places the chopper right in the thick of the Civil Rights movement in a hair-raising story of art imitating life. He also traces the origins of the film back to Soney's West Hollywood parlor, where Peter Fonda and Dennis Hopper would visit to discuss their new project. 
______________________________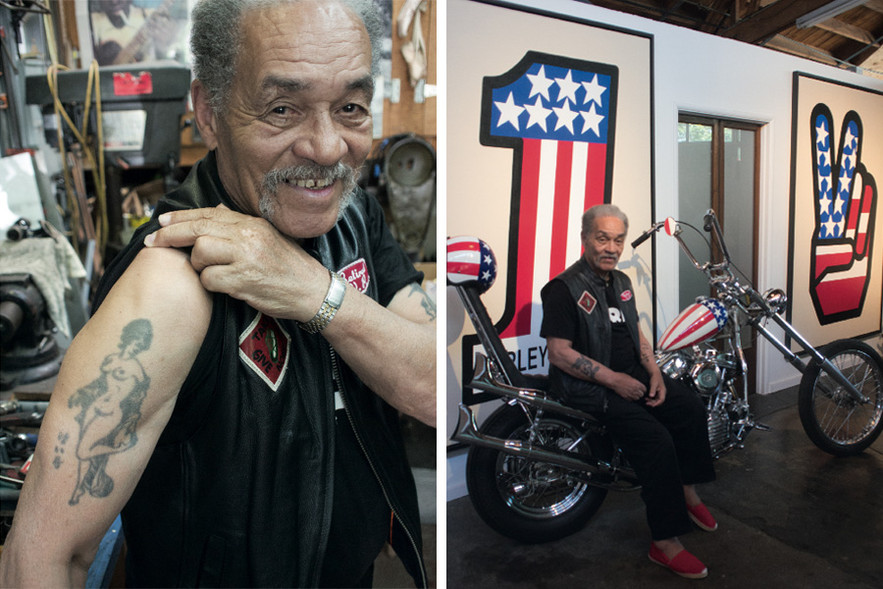 Recruited to the Cause
Vaughs admits that when Dr. Martin Luther King Jr. led the March on Washington for Jobs and Freedom in 1963, "I was building a chopper in my backyard. I knew it was happening, but I hadn't been politicized. Boston had nothing going on in terms of race at the time, it was all mixed race among my friends. We were all the American refugees; Italians, Jews, blacks, etc. I'd heard about the Freedom Rides, but, being from Boston, I thought, 'What could happen?' Cliff met Civil Rights legend Bob Zelner, the first white field coordinator for the Student Nonviolent Coordinating Committee (SNCC), when he passed through L.A. in 1963 on a fundraising tour. Vaughs was recruited to the SNCC cause, and drove his 1953 Chevy half-ton pickup to Mississippi. Of course, being Cliff, he laid stainless steel in the truck's bed, with teak runners, and a white fiberglass tail- gate with 'SNCC' in big black letters. Outrageous, and an instant target, "In the window I had an 'Ole Miss' [University of Mississippi] sticker; I've been shot at many times."
A Free Black Man on a Motorcycle
Even more outrageous was riding his blue Knucklehead chopper to Arkansas in 1964, with a white girl on the back. "The fiery ending of Easy Rider is an example of art imitating life. I was riding my chopper on the highway between Pine Bluff and Little Rock, pursuing an assignment for SNCC to initiate a school boycott there. I had with me a staff member of the Arkansas Project, a Miss Iris Greenburg. A pickup truck passed us going in the opposite direction, stopped and turned around. They took a shot at us from behind and missed. They didn't pursue us any further ... so I lived to tell this tale." Of all the crazy motorcycle tales one hears about the 1960s, this is perhaps the hairiest story of all, and a sign that Soney was both a civil rights volunteer and a bit of a provocateur. "I may have been naïve thinking I could be an example to the black folks who were living in the South, but that's why I rode my chopper in Alabama. I'd visit people in their dirt-floor shacks, living like slavery had never ended, and it was very tense; I was never sure if the white landowners would chase me off with a shotgun. But I wanted to be a visible example to them; a free black man on my motorcycle."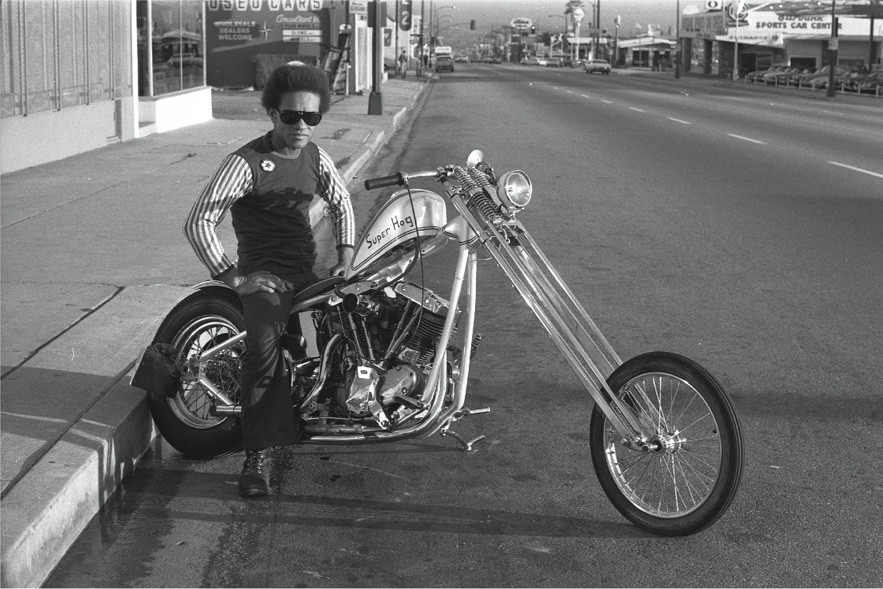 Civil Rights and the Chopper
He carried on with SNCC through 1964, which is when he met photographer Danny Lyon (of The Bikeriders fame), who snapped the infamous photo of Vaughs being bodily lifted, shirtless and shoeless, by no less than six helmeted National Guardsmen in Cambridge, Maryland, on May 2nd, 1964. "Stokely Carmichael is holding my other leg in that photo", says Cliff. "Later on, Danny Lyon lived next to me in Malibu."
Perhaps it shouldn't be amazing that Danny Lyon, the first photo-journalist documenter of a 1% club (the Chicago Outlaws) in his book The Bike Riders (1968), met Cliff Vaughs, the creator of the most famous chopper in the world, at a civil rights demonstration in 1964, while both worked for the SNCC. It was the bloodiest year of the civil rights movement, as black and white, men, women, and children were beaten or killed in the South for daring to stand up for their convictions. Vaughs and Lyons came together in a moment and place of tremendous cultural tension, and then exited that cauldron; while they went their separate ways, each would soon produce art related to the chopper, which would stand as the finest in their respective fields— Lyons with his photography, and Vaughs with his motorcycles and films. And they'd met doing civil rights work in the South, which should explode a few myths about those who ride choppers.
The Origin of Easy Rider
Vaughs began making documentary films with What Will the Harvest Be?, narrated by Julian Bond, about the rise of Black Power (a term Stokeley Camichael popularized) in the South, which included interviews with Dr. Martin Luther King Jr., Carmichael, and Julian Bond, which was aired on ABC-TV in the mid-1960s. He was also working at Los Angeles radio station KRLA, which is how he met Peter Fonda. "Peter was arrested for possession of marijuana. I was mildly amused that so much interest was engendered by the incident, considering the number of citizens detained and incarcerated for smoking 'pot.' We chatted for a while at the courthouse and I called in my story. He was interested in my hobby: designing and building motorcycles. It turned out that we lived in the same neighborhood, West Hollywood. I told him I was usually found in my back yard enjoying my hobby."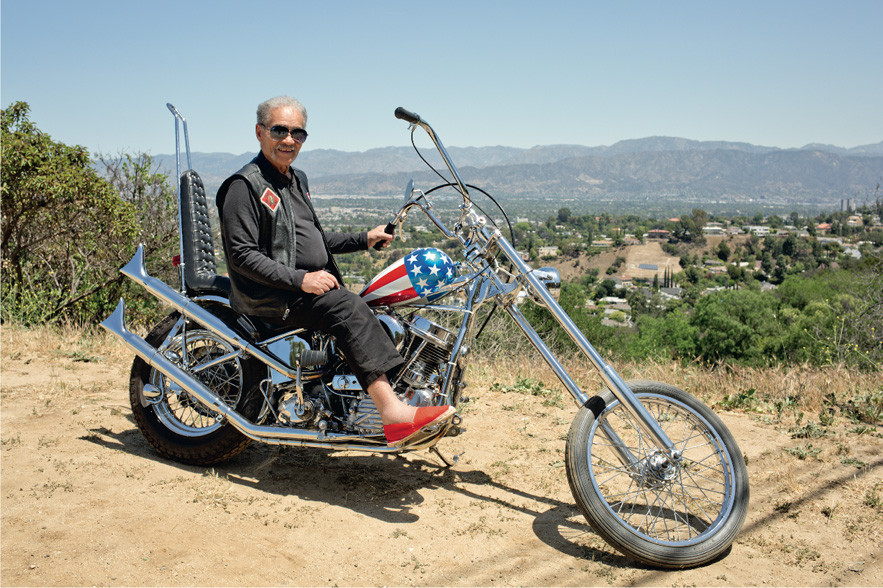 The Writing on the Wall
Fonda stopped by Vaughs' house with Dennis Hopper, and the three of them discussed a new film project they wanted to develop, which would center on motorcycles. "I agreed that the themes of the 'Western' were careworn but an American adventure with the protagonists riding motorcycles instead of horses was apt. We ad-libbed a story line: two friends (not quite 'bikers'), traveling across America seeking adventure. I offered the name Easy Rider, taken from the Mae West performance of the song 'I Wonder Where My Easy Rider's Gone' from the film She Done Him Wrong". A tapestry of Mae West with the song title hung on a wall in Cliff's house, given to him as a gift by his friend Suzanne Mansour. Elder Pattison de Turk III (henceforth Pat de Turk) remembers, "I moved into Cliff's house in West Hollywood in the fall of '67. I was working full time, and preparing to begin a career in computer programming. ...I met Cliff in 1961 while I was studying at UCLA and riding Harley 45", and Cliff had an AJS scrambler. I soon had a lime green Knucklehead chopper that I bought for $300 on Venice Blvd. I was in the living room when Peter [Fonda] and Dennis [Hopper] were visiting. Dennis was slightly mad and a motormouth, he was incessant, so he pretty well dominated the conversation, and I was completely intimidated by the situation, I was just Sonny's friend and all of the sudden here were these movie stars in the room. They came over several times  ... and of course, there was the ever-present small tapestry on the wall 'Where has my Easy Rider gone'."
______________________________
The exclusive Collector's Edition of The Chopper: The Real Story featuring a linen slipcase and original embroidered patch is now available in our online shop.