"Und alle so yeah!"
Alain Bieber's Show on Vulgar Avantgarde
Founder of rebel:art and co-editor of Art & Agenda, Alain Bieber has curated an exhibition that explores the role of internet memes and viral creativity.
On the occasion of Basel's Oslo Night, the House of Electronic Arts (situated on Oslostraße) will host a number of activities hovering between spectacle and criticism, also between net.art and trash. Artists like Alex von Bergen, Tracky Birthday/Hasi International, David Horvitz, Kent Rogowski, Evan Roth, Mathieu Tremblin, and others have been invited by Bieber to set up an exhibition that competes with the internet's ability to blur the line between high and low art.

Do memes count as conceptual art? Can art go viral? And where do all the cats come from? Und alle so yeah aims at taking a close look at popcultural internet phenomena, whereas the title itself refers to the flash-mob interventions during the 2009 elections in Germany that have been catalyzed by a meme. With regard to the political dimension of this topic, Bieber demonstrates the relevance of these seemingly crude virtual movements and their subversive potential.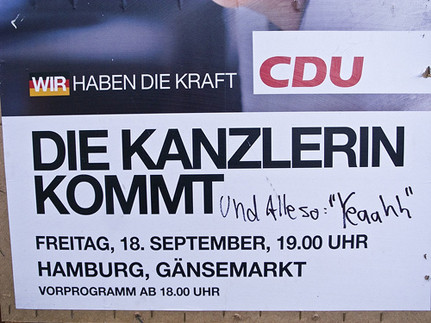 Get a deeper insight into future forms of political discourse and the post-millenium relationship of art and activism in Art & Agenda.