The Neck Pouch Gets a Makeover
An Interview with Early's Designer Valerie Sietzy
Early is a leather accessories brand by Frankfurt-based designer Valerie Sietzy and her creative collective of cohorts. Taken with its fresh aesthetic and conscientious production approach, Gestalten teamed up with the brand to produce the Gestalten x Early Smart Necks. We were also curious about the inspiration behind Valerie Sietzy's designs and her decision to produce the leatherwork locally, so we caught up with the young designer who shared some insight into her process, and gave us a few tips on other highlights of the Frankfurt creative scene to keep our eye out for.
______________________________
What do you love about bags in general?
What I love most is the practical aspect, I like to have my "Essentials" with me all the time, and so I need a comfortable and beautiful bag. I also like bags as an accessory, as I usually wear rather plain clothes and a nice bag adds just the right amount of excitement or style to otherwise plain looks.
Do you think bags are a kind of female phenomenon? Why is that?
No, I don't think so, some men still try to squeeze everything into their trouser pockets, but with the increasing need to be mobile in their jobs and pockets already full with smartphones, headphones, keys... they come to appreciate a little extra storage space more and more. Another aspect is that they don't have as many choices when it comes to accessories, so bags are always a good option.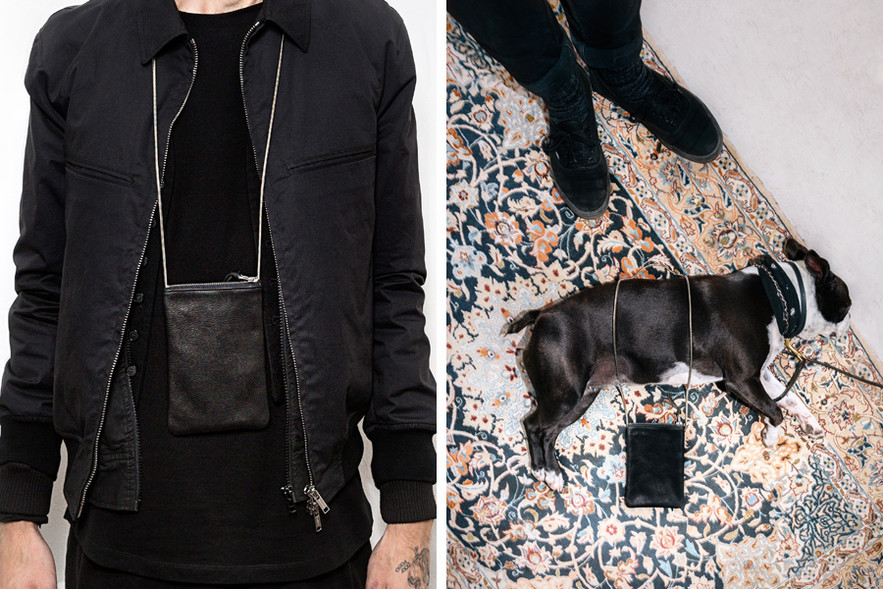 What comes first when you conceive of a new bag design: form or function?
One surely cannot be without the other but I think I always start with the purpose of a bag.
Tell us about the production process? You work with a local manufactory, how did this come about?
Our Region Frankfurt/Offenbach used to be famous for their production of leather-goods. "Offenbacher Lederwaren" was a well-known quality standard worldwide. During the last two decades the complete industry and all its suppliers nearly vanished, because the production was relocated to countries with lower salaries.
I think the craftsmanship that can still be found here is precious, and we try to preserve it as much as possible. For ethical and ecological reasons we work with vegetable tanned leather that has been produced in Bavaria, so it is only consequent to further process it in Germany as well. 
Another reason is that it is very hard for designers to make producers understand how they want to have a product made. I'm really specific about every detail and can't imagine communicating that in a foreign language. In product development it takes many steps to bring something to perfection, and I couldn't travel to another country for all those steps.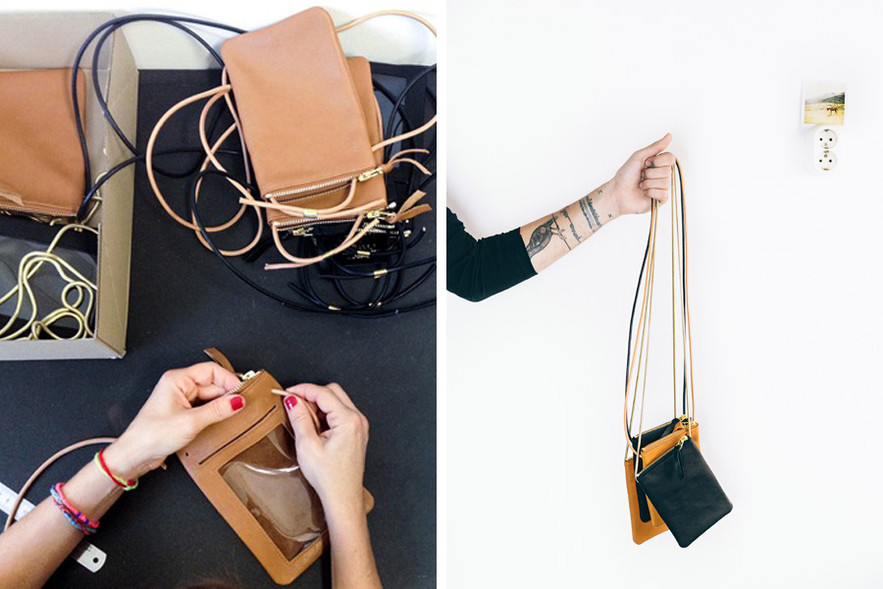 What is the creative scene in Frankfurt like? Are there other up-and-coming designers or artists to keep an eye out for?
Our studio is located in a very interesting building BASIS e.V., Gutleutstraße Frankfurt.  It's five floors with the studios of artists and designers and there is a vivid and inspiring exchange of ideas and skills. I'm so happy and thankful to be there. I love the work of Timo Lenzen and Aoki Matsumoto, really great graphic designers; the films of Marcel Izquierdo Torres; the photography of Marc Krause, and also the music of his band, Young Hare. 
As far as other fashion designers are concerned, I like LIKA MIMIKA. I think their bright colors are brilliant; I especially love their new collection.
Tell us how the idea for the Smart Neck came about? 
It was the combined product ideas of two male friends of mine. One asked me about a neck pouch with a window for his smart phone, the other was already wearing a shabby neck pouch and was very happy with the storage space for his wallet, keys and phone. I thought it's time to dust off the image of a neck pouch and make a nice unisex product that gives people free hands, especially during the summertime when they wear  light shorts or skirts and don't feel like carrying a big bag.
It was a bit of a challenge to find the touch sensitive foil that doesn't crinkle, but I think the window feature is an important part of the product. Having everything well organized and in one place turned out to be extremely practical during nights out and made the products popular among a lot of girls too.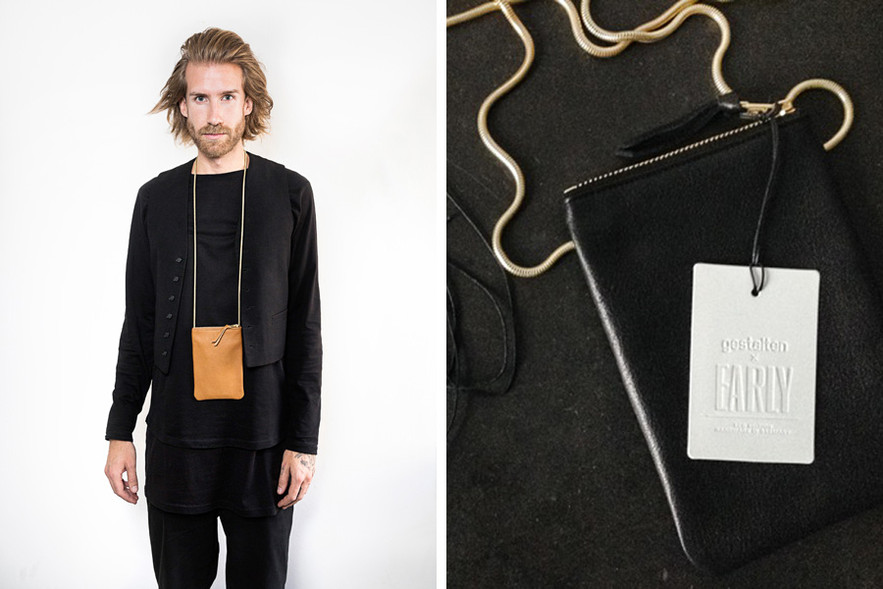 How did the collaboration with Gestalten come about? What makes this collection different from previous collections/products?
A friend told me about the shop at Bikini Berlin and I went by to show my work. The curator especially liked the Smart Neck and encouraged me to produce it in a new color: caramel. Until that day I thought the smart neck is a "black only" product, but I was proven wrong. I love the light color especially combined with the gold chain. 
Three reasons everyone should own a Smart Neck?
It is beautiful, versatile and produced in an eco-friendly process.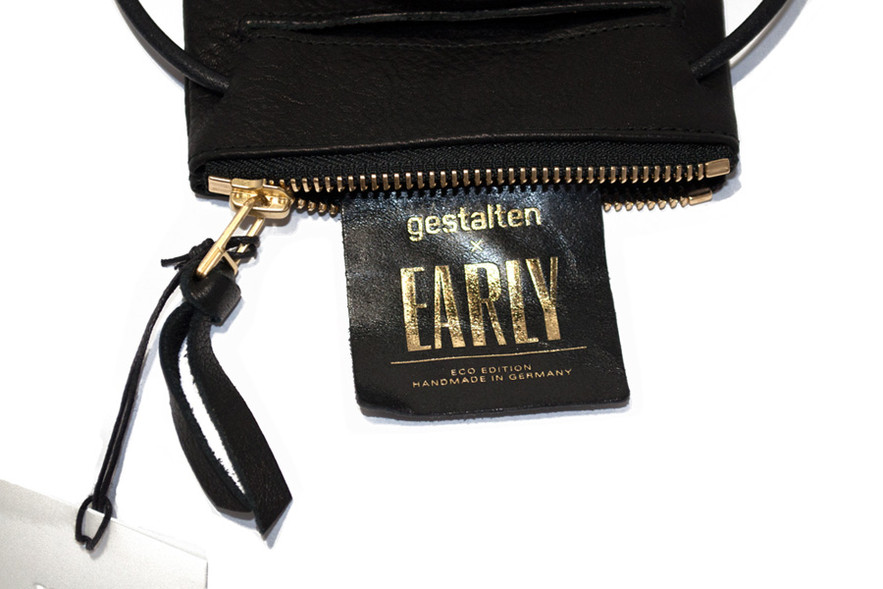 ______________________________
The Gestalten x Early Smart Neck is available now at the Gestalten stores in Berlin and via our online shop.